Let's get one thing clear from the off.
If anyone tells you that Lionel Messi isn't the greatest player ever, or that because he hasn't played in England or somewhere outside his 'comfort zone' it somehow impacts upon his legacy, get your football opinions from somewhere else in future.
Barcelona is his club, his home, the place he rebuilt and moved to greater heights post-Ronaldinho. It used to be a point of virtue to remain loyal to a single institution and give them their best days, but it's been a stick used to beat Messi with, and it's just short-sighted and reductive.
For a start, for most of those years he was playing in the best team in the world; who would want to discard a partnership with World Cup-winning Xavi, Andres Iniesta and David Villa? Or a burgeoning Neymar and peak Luis Suarez?
And even when the team regressed under Ernesto Valverde, they were still two utterly freak results away from the Champions League final, firstly against Roma and, even more so, that debilitating night at Anfield against Liverpool. Barca's decline has been gradual, not striking, and Messi himself helped paper over the cracks for much of that time.
This season is different. The drop-off is palpable, the lack of structural integrity from the president downwards clearer than ever before. Messi has never been Josep Maria Bartomeu's biggest fan, and now he could be his worst nightmare.
Bartomeu is seen by many Cules as the devil incarnate, the man whose misplaced hubris has been the downfall of a club that reached unimaginable heights during this decade. He has orchestrated the decline, one that he has flat refused to take any responsibility for at any point.
The situation is exacerbated by the elections in 2021; Bartomeu will likely be replaced at that point, and a younger Messi would likely be happy to ride things out and see Xavi, likely, emerge as his coach on the other side.
READ MORE:
Forget Ronald Koeman: Barcelona's problems run much deeper than the coach
Barcelona's bad deals: Breaking down every transfer disaster as 1 billion is wasted
But he doesn't have time. Messi has the technical capacity to play for many years yet, but, perhaps, his chances of winning the Champions League again have two, three years max. He doesn't seem willing to sacrifice one of these years for another obdurate season with a middling group of players that limp towards another inevitable knockout stage defeat.
So one thing is abundantly clear; this is absolutely a Messi power play. He has done it many times before depending on the current situation. After Tata Martino's season in 2013/14 he made it clear he was deeply unhappy with the on-pitch performance, stating: "The truth is that things have not gone as we expected -- it was a tough year, both personally and in the group.
"It is the people in Barcelona who have to decide what to do about my future, but my choice is to stay once I feel the same affection from them. If not, then I will look for another solution because I will always want the best for this club."
Once the treble was won in 2015 - it didn't look likely at all in the January, and Messi notoriously refused to train for Luis Enrique ahead of a defeat at Real Sociedad - he was all smiles the next season, signing an extension and saying: "I've always said that I can't leave Barcelona. It's always my response."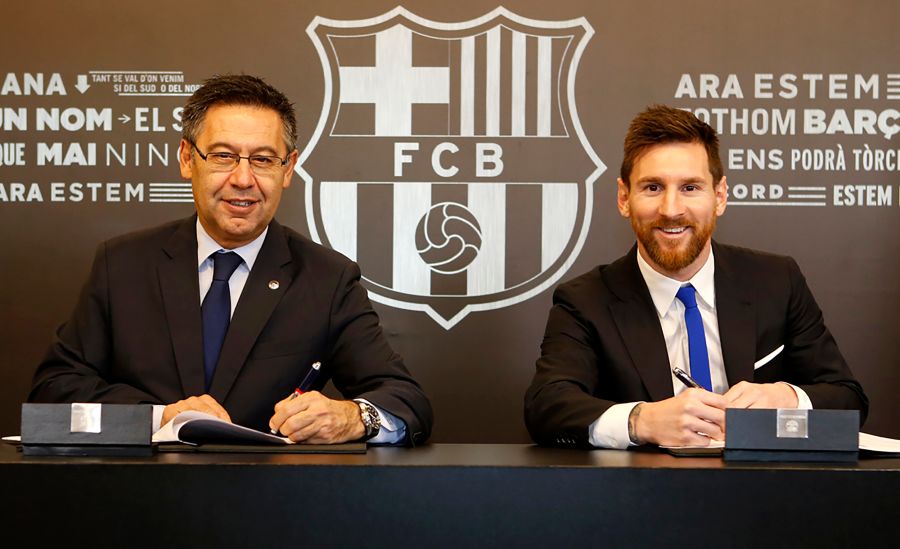 He has also held the Argentina national team on string, walking out regularly and announcing his retirement in 2016 after the third final loss in a row following the 2014 World Cup and back-to-back Copa Americas. But he's been back, and he probably will be again for one final try in Qatar in 2022.
He does it to force his hand, or force change within an organisation which seems ambivalent towards his demands. Here, with Bartomeu and the arrival of the acerbic, arrogant Ronald Koeman, he feels as if he has been obliged to take action. He doesn't want to leave his home, uproot his family, and give up on the club that made him, and he helped to make.
But this, he feels, is now untenable, and the only way that a shake-up will arrive this year, not next, to give him a better chance of exacting the change to take the team to a Champions League-winning position, is if he plays the first hand.
That is not to say that he will get what he want. If reports are to be believed, Pep Guardiola has already been contacted. Messi will not be without an exit strategy of some kind. And if things aren't resolved - principally, Bartomeu's removal - then he may well follow through.
The confusion around his release clause, or lack thereof - may cloud the issue slightly but in a situation like this, both things can equally be true. Messi may want to force change, but he's also willing to walk away if the situation came to it. And that's why this situation could run for some time yet.
READ MORE:
Forget Ronald Koeman: Barcelona's problems run much deeper than the coach
Barcelona's bad deals: Breaking down every transfer disaster as 1 billion is wasted