Getafe versus Barcelona was arguably the most anticipated match of LaLiga round 6.
Facing Pepe Bordalas' Getafe was never any possession-based team's dream, but Barcelona has never lost to the Madrid side. A battle of opposites is always fascinating from a tactical standpoint, and this match was not an exception.
Line-ups
Getafe (4-4-2): David Soria; Mathias Olivera, Erick Cabaco, Djene, Damian Suarez; Marc Cucurella, Mauro Arambarri, Nemanja Maksimovic, Allan Nyom; Cucho Hernandez, Jaime Mata.
Barcelona (4-2-3-1): Neto; Sergino Dest, Clement Lenglet, Gerard Pique, Sergi Roberto; Frenkie de Jong, Sergio Busquets; Ousmane Dembele, Pedri, Lionel Messi; Antoine Griezmann.
Barcelona in possession
Using a 4-2-3-1 formation, Barcelona tried to build-up through their back four and the pressing-resistant double pivot. Pedri and Messi also dropped deep at times to help their teammates. With right winger Messi usually tucking inside, Barcelona usually had three players between the lines in Pedri, Messi and Griezmann.
Barcelona: Squad, FC Ratings, Matches, Formations
As usual, Getafe pressed high regardless of who their opponents are. Their compact two banks of four were mobile and could shift quickly according to where the ball was. The forwards had to limit passes through the middle by the use of cover shadow and tight marking. Usually, when an opponent's centre-back has the ball, the ball-near forward would mark the deeper pivot, while the other forward would stay between the centre-backs to keep a compact shape in the middle, while not allowing the other centre-back to receive the ball. Maksimovic and Arambarri were tireless and always ready to follow Barça's ball-far pivot and Pedri. The ball-carrying CB's nearby passing options were covered, meaning he had to pass wide.
Getafe's high press slightly varied depending on the situation, but the major aim was always to deprive De Jong and Busquets of the ball. In fact, the four players with the most touches for Barca were their back four.
The below image shows a high press by Getafe, who displayed great horizontal and vertical compactness. The forwards block the passing lanes towards the double pivot, while Maksimovic and Arambarri follow Busquets and Pedri closely.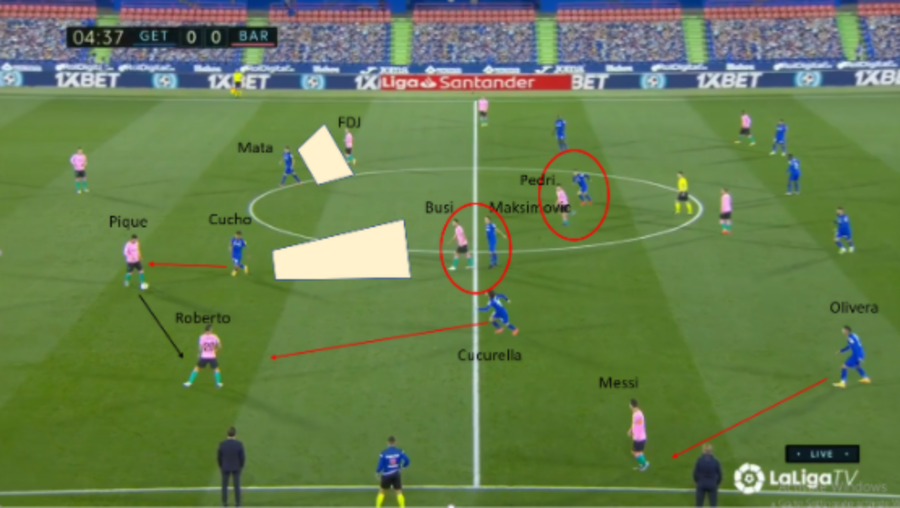 In situations like the one above, the centre-back was often forced to pass wide. This would instantly trigger Getafe (with movements started by Cucho and followed by Cucurella and Olivera here) to overload the area around the ball and cover all nearby passing options. With less space and fewer passing options on either wing, the full-back could choose to pass back, which would trigger Getafe to push their whole shape higher up to force a long ball; he could also try to combine through the tight space and risk giving the ball away dangerously. Getafe are a physical and aggressive side, and always worked tirelessly to win back the ball. They are not dominant in the air, but numbers around the ball (due to their compactness) and great teamwork helped them to win a lot of second/third balls.
The below image shows an example of Getafe's synchronised pressing. Here, Cucurella only stepped out to press Roberto after seeing that Olivera had followed Messi. With no nearby passing option available, Roberto turned over possession. In the resulting second ball situation, Cabaco pushed high to overload the ball area and win back the ball.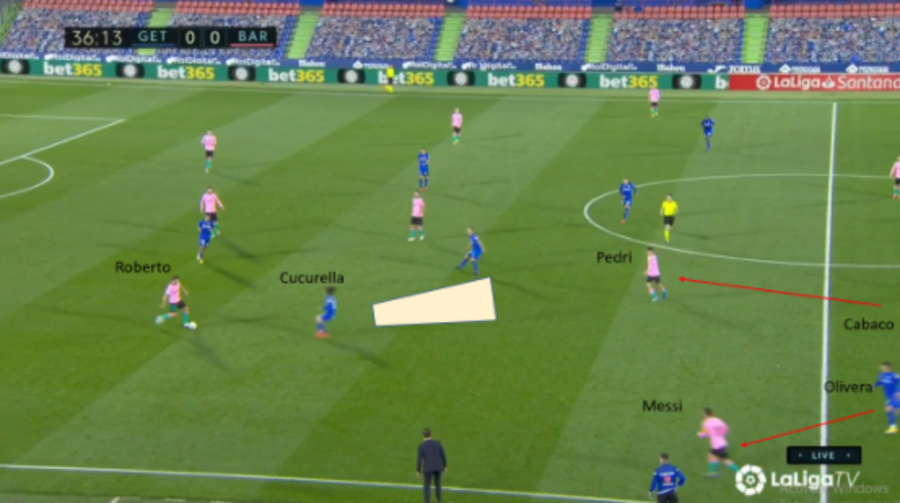 Getafe's high press worked extremely well. The ball was in Getafe's third for only 24% of the match despite them having as little as 27% possession. Barcelona lacked a runner that could make runs in behind and prevent Getafe's back four from keeping vertical compactness with the midfield. Things would have been better for them if Jordi Alba had been fit, and Dest could play on his favoured right flank. A '2020-version' Dembele and inside forwards Messi and Griezmann couldn't stretch Getafe's defence.
Substitute Martin Braithwaite did well with his runs into channels, but he was only on the pitch for 10 minutes and couldn't save Barcelona. Ansu Fati - a true winger - has been in much better form than Dembele and was expected to make a big impact. However, Bordalas decided to switch Nyom and Damian's position. Nyom is a notoriously rough gamesman who had the pace to keep up with the substitute and did whatever he could to bully Fati physically, successfully keeping him out of the game. The Cameroonian only got a yellow card despite committing a game-high 8 fouls, while his side committed 20 fouls in total. Getafe's tireless pressure clearly worsened the Blaugrana's decision-making and team play.
In situations when Barcelona got to Getafe's third, they would look to progress through short combinations, with Pedri, Griezmann and Messi roaming between the lines. Getafe's compact 4-4-2 mid-block generally dealt with these central combinations comfortably, as Barcelona lacked the threat from wide areas. Naturally, they tried to overload a half-space/central area near Getafe's box, with the double pivot pushing high. This did help them counterpress effectively. Getafe's players were mostly not composed on the ball and had trouble beating such counterpresses. Here, Busquets and De Jong's high positioning helped them win back the ball early as their teammates were willing to track back. However, the visitors created very few chances, with their only good chance coming from a quick counter - Griezmann missed the chance though. They registered only seven shots, with one on target.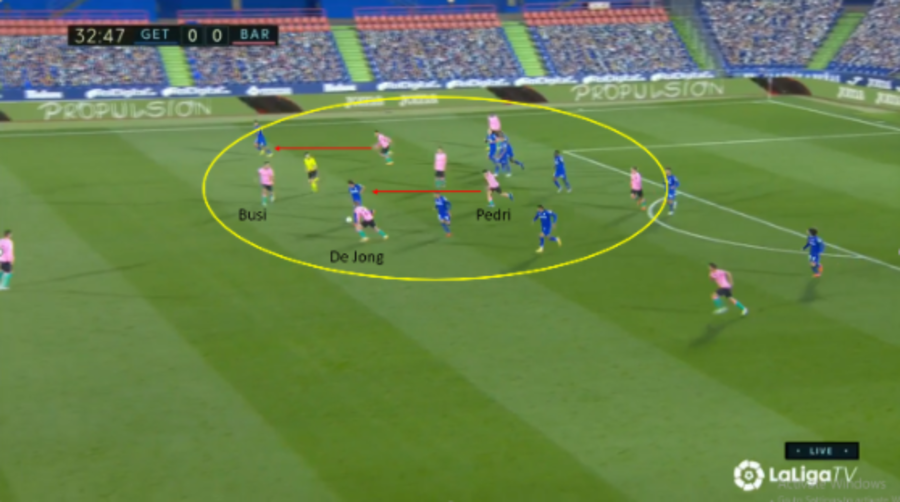 Getafe in possession
In possession, Getafe are a simplistic and opportunistic side. 30% of their passes were long. Only 126 of their 217 passes were accurate (58%). Their deep players would almost instantly launch passes high up the pitch. The wingers would join the forwards to become a front four, trying to win second/third balls. Never known for great technical qualities, Getafe wanted to instantly create chaotic second ball situations to showcase their aggressive counterpresses. Sometimes, they would manage to win the ball near the opponent's box and could instantly create danger. In other cases, they were happy to let Barcelona have the ball. Here, Cabaco didn't hesitate to send a long ball towards Cucurella, who was pushing high.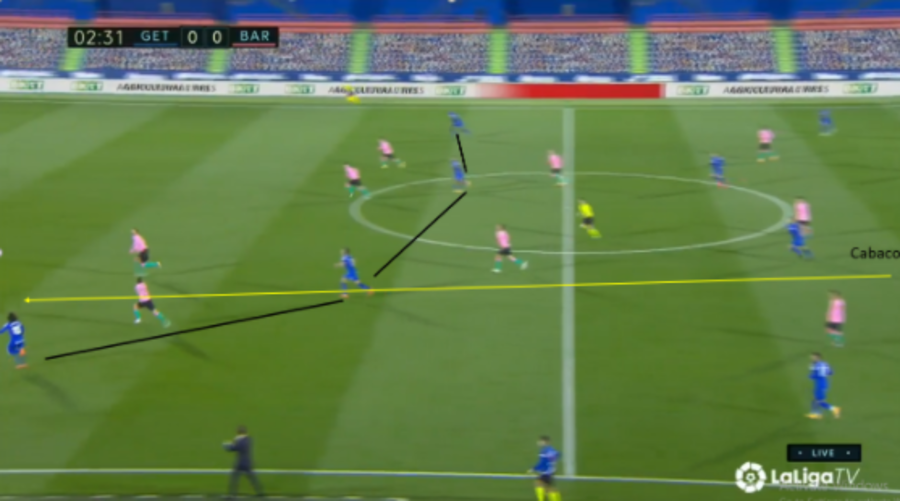 Should they get the ball in Barcelona's half, they would attack directly from wide areas with wide combinations and crosses. They had the Cucurella-Olivera combination on the left and the relatively technical Cucho moving wide to help Damian and Nyom on the right. When there was a cross, the ball-far winger would move into the box to fight for the ball (Cucurella here). Here, we could see Getafe players overloading, trying to win the second ball. They would then look to cross again and again.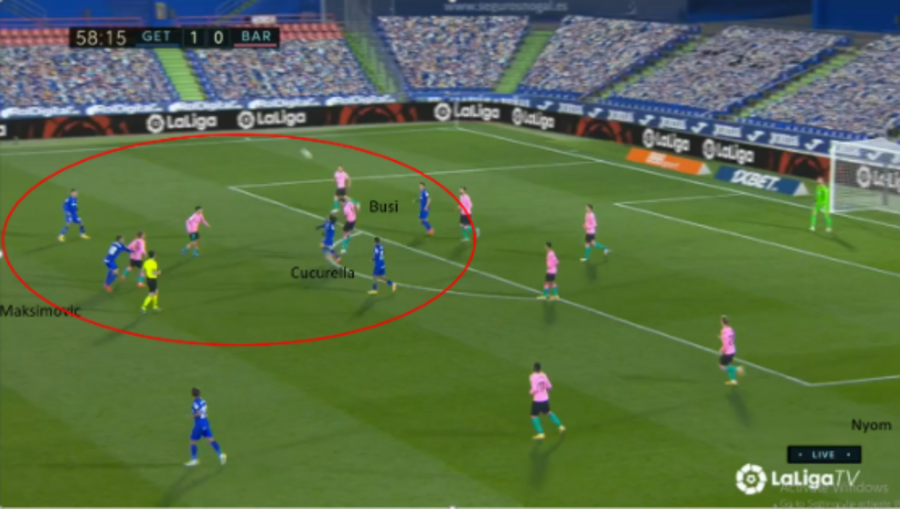 Conclusion
This was a typical Getafe win, with their winning goal coming from virtually nowhere. Their pressing and second-ball style turned the game into a chaotic, physical battle in which they held the advantage. Their style was at times too brutal for Barcelona's technical players, whose usual smooth team play was nullified. The away side's lack of threat from wide areas once again harmed them.