Barcelona fans might be surprised to believe it, but Martin Braithwaite simply has to play.
It's two starts, three goals, an assist, and two rampant 4-0 victories in a week. The Dane isn't exactly fashionable, but boy has he been effective in making Barca more efficient from a tactical perspective.
Antoine Griezmann had been hung out to dry and drastically misused as the central striker in an attacking quartet; he was permanently on the periphery of games in a position he just wasn't suited to.
And with Ronald Koeman starting this match with Pedri, Philippe Coutinho, Griezmann, Lionel Messi and Braithwaite, it was a chance to see if not only could their creativity co-exist but allow Braithwaite to be the focal point. And it's working.
To be realistic, it was only Dynamo Kiev and Osasuna. Better teams will inevitably prove far bigger challenges and so far this season, Barca failed the tests of Real and Atletico Madrid, losing both.
But Barca have also struggled immensely versus teams lining up in a low block encouraging the attack to break them down. And in both matches they showed patience, variation in attack and incision.
Braithwaite has been key to that. Let's not forget why Barcelona signed him in the first place in January; Luis Suarez was out for four months, and Barca clearly needed a direct replacement in that position. Quique Setien knew that the skillset of Suarez, beyond being a lethal finisher, was an understanding of the position. He holds it up, occupies defenders in a central position, and allows others to play around him.
Braithwaite did that effectively against Osasuna. Much of what he does doesn't translate into meaningful statistics. He made 125 touches and attempted just 11 passes, but his off-the-ball movement and space creation was key.
When you have Coutinho, Messi and Griezmann all competing to occupy similar zones of the pitch, particularly when Alba and Dest push on from full-back into the final third, it needs someone in the middle to play around. Otherwise, as we've seen recently in defeats at Getafe and Atletico, and also the draw with Alaves, ball recirculation goes left, to centre, to right, and then back, with no penetration into the area.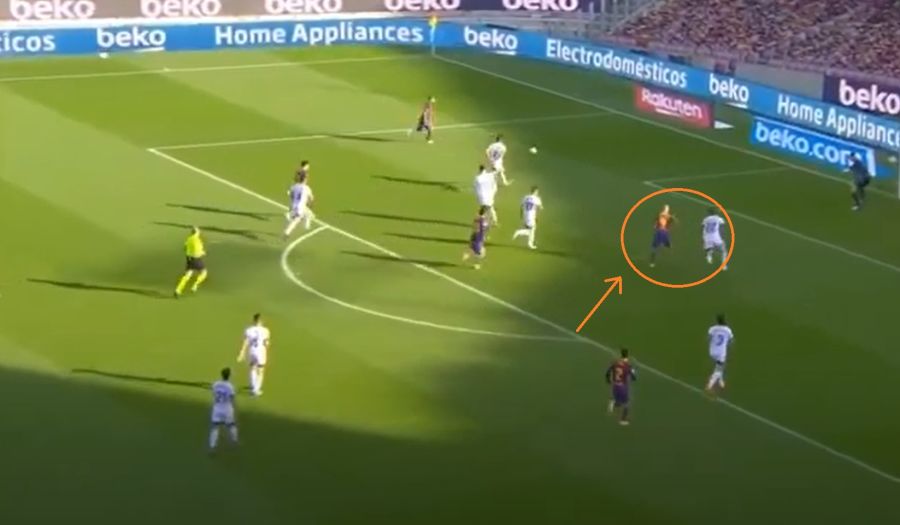 As shown in the image above, Braithwaite makes a burst into the near post to give an option for the cross. Coutinho's ball in is poor, but Griezmann then smashes in the rebound on the volley. Braithwaite filled the space and allowed those coming in behind to pounce on the scraps. It's unglamorous - just like his opening goal here, scrambling over the line with his thigh from close range - but this team don't do enough of the dirty stuff at times, and Braithwaite is happy to.
He doesn't have the skill of his peers nor the finishing prowess of a Suarez, but he can be much more effective than even Barca have given him credit for. Koeman sees a situation now his creators can do their best work with him in the team and, what's more, no-one else in the squad can offer what he does.
Barca's problems defensively remain a real concern; Clement Lenglet limped out with injury, joining Gerard Pique, Sergi Roberto and Samuel Umtiti on the sidelines. They finished this match with 21-year-old B team graduate Oscar Mingueza as the only recognised centre-back on the field, and even he only made his debut in Kiev during the week. If Lenglet's injury is bad - and it didn't look good as he clutched his ankle - it will make the coming weeks extremely testing for a back line that was toiling even when everyone was available.
But for now at least, the attack has cohesion for the first time this season. To come from the tepid display against Atletico and score eight without reply is, at least, an encouraging step. And Braithwaite's continued part in that should not be underestimated.