PROFILE
ATTRIBUTES: Pace, penalty box awareness, finishing
PLAYS (A BIT) LIKE: Pierre-Emerick Aubameyang, Nicolas Anelka
When so much of modern tactics requires players to have a multitude of skills, sometimes it is refreshing to see a forward bred for one thing - getting the ball over the line. Myron is shaping up to be the type of striker who lives his live slotting home from inside the penalty box.
Amsterdam-born and originally of Ghanaian descent, Boadu, like fellow AZ developing talent Calvin Stengs, joined AZ as a teenager and has been carefully prepared for the first team during that time, before his obvious talent proved too good for Jong AZ and he was promoted to the first team at age 16.
But he and Stengs, despite being two years apart, have suffered curiously similar setbacks on their road to the Eredivisie. Boadu's first season in 2017-18 was effectively ruled out due to an ongoing knee problem, but on his return in August 2018 he became AZ's youngest-ever goalscorer against NAC Breda.
Disaster then struck for a second time, as a broken ankle put him out of action for a further seven months. Boadu returned strong once again, showing immense strength of character to end the season with three goals and two assists in just 391 minutes of Eredivisie football.
| | | |
| --- | --- | --- |
| Statistic | Score | League Rank |
| Non-Pen Goal P90 | 0.62 | 3rd |
| Non-Pen xG Per Shot | 0.24 | 1st |
| Non-Pen Contribution | 20 | 2nd |
| Non-Pen xG | 14.2 | 1st |
Now Boadu hopes to unleash the full power of his talent and forget all about any injuries. His relationship with team-mate Stengs is a clear and obvious one, Stengs manipulating the ball while Boadu gallops into the space behind defenders.
Their synchronised play is a clear highlight of AZ's superb 19/20 season both domestically and in the Europa League, with Boadu scoring typically explosive goals. When he gets going, no-one is catching him, but he retains that rare composure to convert the opportunity when presented. He has also shown a distinct propensity for penalty box poaching.
Both he and Donyell Malen are leading the way in a number of key metrics, and Boadu's xG (14.2) and xG per shot (0.24) are the best in the league. Furthermore, only Ajax's Dusan Tadic has made more contributions than him in the Eredivisie this season. And he's only just turned 19.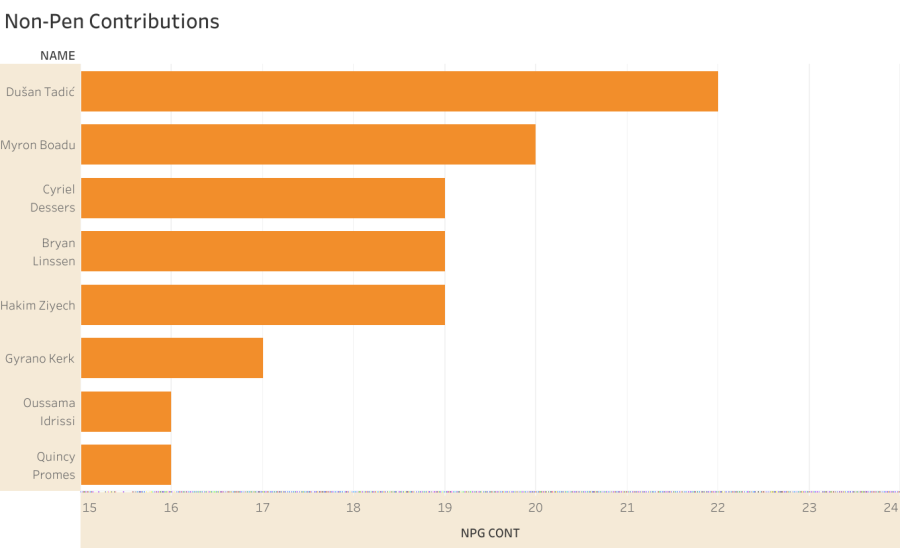 Team-mate Owen Wijndal, he himself a 19-year-old left-back from the same seriously impressive AZ production line, believes that Boadu and Stengs' shared experiences through setbacks and better times are motivating both to reach new heights.
Let Cal and Myron figure out who will be the most expensive, it won't be me. They are really exceptionally good players. They both had to deal with serious injuries at a young age. It's amazing how they came back and what they are showing now. But I tell you: they are going to get even better.Owen Wijndal
Boadu has recently confirmed his decision to snub Ghana and stake his claim for a place in the Netherlands senior team, and he hit the ground running, scoring the fifth goal in a rout of Estonia. With the Euros pushed back a year, it gives him even more time to show his proficiency at this level and know that when the time is right, a move to wherever he wants - coronavirus permitting - is his for the taking.
⚽ Myron Boadu: Full profile, statistics, career stats and pitch position
⚽ Watch Myron Boadu in action