We've looked at the Football Championship Belt holders from the 1970s, 80s, 90s, and into the noughties.
Now we move from the 00s into the 2010s and look at the players who were the best in the world in their respective time periods.
READ MORE:
The Best Player in the World, 1970-88: Pele, through to Maradona
The Best Player in the World, 1988-98: Van Basten, Romario, Ronaldo and more
The Best Player in the World, 1998-06: From Zidane to Ronaldinho
2007-09: CRISTIANO RONALDO
Cristiano Ronaldo had been at Manchester United since 2003, but 2007 was the year where he finally became the world's best player. After getting United team-mate Wayne Rooney sent off at the 2006 World Cup, fans throughout the Premier League booed the Portugal International, but rather than put him off, it only spurred him on. That, combined with a new training regime helped him record his first 20-goal season and win the Premier League for the first time.
In April 2007, he scored his first Champions League goals and after finishing behind Kaka in the 2007 Ballon d'Or, won the award in 2008 off the back of a 42-goal season for United where he won the Champions League and the Premier League. Injury hindered his 2008-09 campaign at Old Trafford, but he still finished with 26 goals and a league and cup double before breaking the world transfer record to join Real Madrid for €94m.
2nd Contender: Lionel Messi
3rd Contender: Fernando Torres
Lionel Messi also recorded his first 20+ goal season in 2008-09, scoring 38 goals in all competitions including nine in the Champions League to help Barcelona become European champions. After finishing third in the 2007 Ballon d'Or voting, he came second in 2008, moving ever closer to being crowned the world's best.
At the same time, Ronaldo was starring for Man Utd, Fernando Torres became Liverpool's talisman, and finished runner-up to the Portugal star in the top scorer race. At International level, however he came out on top, helping Spain lift Euro 2008 by scoring the only goal in the final.
2009-12: LIONEL MESSI
Lionel Messi's 38-goal season in 2008-09, as well as his domestic double with Barcelona and Champions League title, earned the Argentine his first Ballon d'Or win, beating out new Real Madrid signing Cristiano Ronaldo and Barca team-mate Xavi.
After that win, Messi continued to improve on a personal level, scoring 47 goals in 2009-10, 53 in 2010-11 and then an astonishing 73 goals in 60 games in 2011-12. Two more La Liga titles, a Copa del Rey and another Champions League medal decorated his shelves, as well as back-to-back-to-back-to-back Ballon d'Or awards.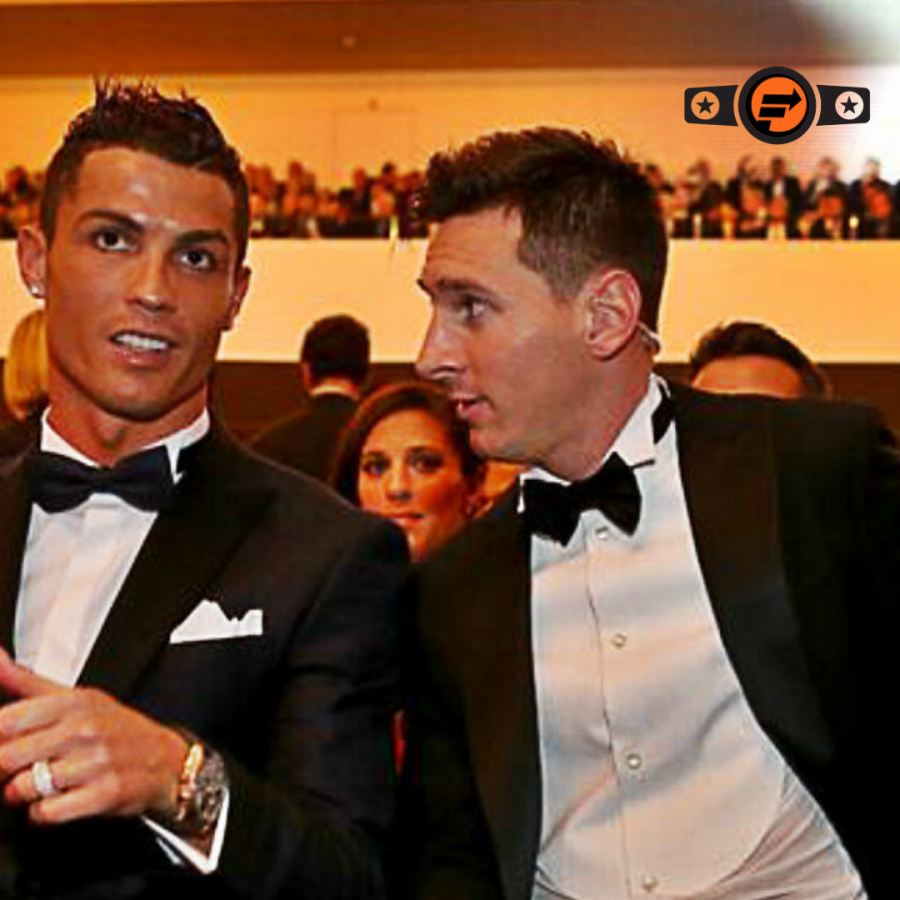 The Ballon d'Or podium was made up of Messi and at least one other Barcelona player from 2009 to 2012, with the Blaugrana having the top three in 2010 thanks to Spain's World Cup win as Andres Iniesta and Xavi finished behind the Argentine. In 2011,
2nd Contender: Cristiano Ronaldo
3rd Contender: Andres Iniesta
Xavi came third and Iniesta finished in third in 2012 thanks to Ronaldo's impressive start at Real Madrid. Messi averaged more than a goal a game in 2011-12, but so did Ronaldo, netting 60 times in 55 appearances for Los Blancos, denying Barcelona the Liga title.
2012-14: CRISTIANO RONALDO
Cristiano Ronaldo had been sensational in the early 2010s, but was somehow still in the shadow of Lionel Messi. By 2013, the roles had reversed and Ronaldo was the world's greatest player again. It was difficult to separate the two, but Ronaldo finished ahead of his rival in the Ballon d'Or voting by just three per cent to end Messi's dominance.
This was thanks to a stellar year for club and country where he continued to score more than a goal per game for Real Madrid and netted 10 goals in 9 appearances for Portugal. Having won the Champions League with Manchester United back in 2008, Ronaldo lifted it for the second time in 2014, becoming one of a select few to have conquered Europe with two difference clubs. He scored an incredible 17 goals en route to the final, including Real's fourth as they defeated local rivals Atletico Madrid in Lisbon.
2nd Contender: Lionel Messi
3rd Contender: Gareth Bale
A few weeks after Ronaldo lifted the Champions League, Messi reached the World Cup final, but despite being awarded the Golden Ball, finished the season trophyless. He was still dominant for Barcelona but his performances for Argentina sometimes fell flat, and he failed to follow in the footsteps of Argentina's other iconic No. 10 Diego Maradona by winning the World Cup.
At Real Madrid, Ronaldo was greatly helped by Gareth Bale in the famous BBC frontline with Karim Benzema. Bale had broken Ronaldo's transfer record to join Real for €100m and lived up to the hype and pricetag by scoring in both the Copa del Rey and Champions League final.
2014-15: LIONEL MESSI
The order at the top of world football changed around once again in 2014-15, with Lionel Messi lifting his fifth Ballon d'Or trophy. That came as no surprise as Messi and Barcelona had beaten every team that stood in their way during the season, winning the league and cup double as well as the Champions League.
Messi finished joint-top of the scoring chart for the Champions League and provided more assists than any other player during the competition. On an International level, Messi reached another final, but after Chile won the 2015 Copa America on penalties, he rejected the tournament MVP trophy, with the award not given out for the first time in Copa America history.
2nd Contender: Cristiano Ronaldo
3rd Contender: Neymar
Ronaldo and Real Madrid won just the UEFA Super Cup and Club World Cup despite the Portuguese's best efforts. Real scored a fantastic 118 goals in La Liga, but finished on 92 points to Barcelona's 94. Ronaldo was the catalyst for many of those goals, with a career-best 48 league goals in 35 games, winning the Pichichi Trophy ahead of Messi.
Messi's team-mate Neymar had a breakout season of his own, more than doubling his goal tally of the previous season in Barca's MSN attack. He also scored 10 goals in the Champions League, joining Messi and Ronaldo at the top of the scoring charts, bagging his 10th in the final against Juventus.
2015-17: CRISTIANO RONALDO
The Ronaldo-Messi battle continued throughout the 2010s with Cristiano Ronaldo returning to the top of football during 2015 to 2017. This was thanks to two more Champions League titles, but also through his International performances with Portugal. Ronaldo finally achieved something Messi could not by lifting an International trophy when Portugal won Euro 2016.
The Real Madrid forward scored 13 times in 13 Internationals in 2016, and despite going off injured in the European Championship final, was the driving force behind his country's first-ever International trophy - something not even Eusebio's side could do or Portugal's Golden Generation of the early 2000s with Luis Figo and Deco. Two more Ballon d'Or trophies came as a result, moving Ronaldo back ahead of Messi.
2nd Contender: Lionel Messi
3rd Contender: Neymar
More La Liga titles and Copa del Rey trophies were not enough for Messi to unseat Ronaldo, with Real Madrid dominating Europe and Barcelona's legendary side in transition. Messi continued to be deadly in front of goal, alongside Neymar.
The Brazilian helped Barcelona win the league and picked up a gold medal at the 2016 Summer Olympics - something Messi had done eight years earlier.
2017-20: LIONEL MESSI
Ronaldo's International form propelled him to the top between 2015 and 2017, but Messi's club career put the Barcelona forward back as the best in the world in the years since.
Barcelona have won consecutive La Liga titles and did the double in 2018. During this period, Messi made La Liga his own as Ronaldo decided to leave Spain to join Juventus in 2018
A rare blip happened in 2018 as neither player won the Ballon d'Or, with Luka Modric lifting the trophy after helping Croatia to the 2018 World Cup final. Both Portugal and France slumped out of the competition at the Round of 16 stage, paving the way for France to win the tournament. Messi was back to his best at Barcelona after the tournament, with 51 goals in 50 appearances for the Blaugrana.
2nd Contender: Cristiano Ronaldo
3rd Contender: Kylian Mbappe
Ronaldo finished as runner-up in the 2018 Ballon d'Or voting thanks to his performances for Real Madrid in the Champions League, but by the time the award came around, he was playing in the black and white of Juventus. He won Serie A in his first season in Italy, adding another country's league title to his collection.
Neymar's world record €222m move to PSG has not lived up to expectations, with the Brazilian often overshone by team-mate Kylian Mbappe. The France forward won the World Cup in 2018, becoming the second teenager (after Pele) to score in the final.
READ MORE:
The Best Player in the World, 1970-88: Pele, through to Maradona
The Best Player in the World, 1988-98: Van Basten, Romario, Ronaldo and more
The Best Player in the World, 1998-06: From Zidane to Ronaldinho