WHAT IS THE FC CHAMPIONSHIP BELT?
Just like the boxer who holds the heavyweight title for an extended period, football sees periods where certain players are so clearly regarded as the finest exponent of their sport that their ability is transcendent.
In the modern era we've been blessed with a decade-long battle between Lionel Messi and Cristiano Ronaldo, but on FC we've decided to go back much further than that, and assess which players held the unofficial FC Championship belt from 1970 until now.
READ MORE:
The Best Player in the World, 1988-98: Van Basten, Romario, Ronaldo and more
The Best Player in the World, 1998-06: From Zidane to Ronaldinho
The Best Player in the World, 2007-2020: Enter Messi and Ronaldo
Disagree with our selections? Let us know on @CriticFootball_
1970: PELE
The 1970 World Cup was Pele's final act of greatness on the global stage. After bursting onto the scene as a 17-year-old at the 1958 edition, 'The King' soon transformed into a somewhat mythical figure.
However, he retired from International football after being kicked out of the 1966 World Cup in England and it appeared we would never see Pele again in Brazil colours.
Thankfully, the Santos hero reversed his decision and he proved he was still the world's number one during the finals in Mexico. He spearheaded arguably the best International team of all time - one boasting Jairzinho, Tostao, Rivelino, Carlos Alberto and Gerson – to a third Jules Rimet trophy.
Pele scored four times in the tournament, bagging one goal and two assists in the final, as he wowed audiences with a string of iconic performances. The gravity-defying leap to open the scoring versus Italy, the halfway-line lob against Czechoslovakia, the dummy on Uruguay's goalkeeper, and the thumping header miraculously saved by Gordon Banks – these are moments of genius which will live on forever.
Unsurprisingly, Pele lifted the World Cup Golden Ball.
2nd Contender: Gerd Muller
3rd Contender: Franz Beckenbauer
That year's Ballon d'Or winner Gerd Muller emerged as the most lethal striker in Europe during the finals by scoring 10 goals, while team-mate Franz Beckenbauer also gave us a taster of what was to come with a string of memorable individual displays. This included playing with his arm in a sling during the epic 4-3 semi-final defeat to Italy.
But there was only one king, Pele. Long live the King!
1971 - 1973 - FRANZ BECKENBAUER
The first half of the 1970s was dominated by the rivalry between West German and Dutch football. It was a clash of two very different schools – the ruthless and efficient German machine versus the artistic and revolutionary Total Football from the Netherlands.
West Germany and Holland were the two best International teams of this era, while Bayern Munich and Ajax were the standout clubs. Among a swarm of legendary players, Franz Beckenbauer and Johan Cruyff were the respective stars and captains for both club and country. Between 1971 and 1973, you could argue the case for either Beckenbauer or Cruyff being the best player in the world.
Ajax won three consecutive European Cups during this time period, with Cruyff putting in a majestic individual performance by scoring twice in a 2-0 victory over Inter in the 1972 final.
However, Beckenbauer was also at the peak of his powers having converted from a central midfielder into a classy libero at the heart of the defence. He was imperious as perhaps the most dominant ever West Germany side romped to glory at Euro '72, thrashing the Soviet Union 3-0 in the final.
2nd Contender: Johan Cruyff
3rd Contender: Gerd Muller
Gerd Muller scored twice in that final to add to his decisive double in the semi-final versus Belgium. Der Bomber's goalscoring numbers in the early 1970s were frankly ridiculous, and he hit a barely believable 160 goals for Bayern alone in three seasons between 1971 and 1973. These kind of figures would not be seen again until Messi and Ronaldo's peak.
1973 - 1977: JOHAN CRUYFF
The rivalry between Cruyff and Beckenbauer continued over the next few years, despite Bayern Munich dethroning Ajax as the best club team on the continent. The Bavarians also won three successive European Cups, with Beckenbauer pivotal in the clean sheet victories over Leeds United and St Etienne.
In truth, Bayern were somewhat fortuitous to win all three finals. They scored a 120th minute equaliser to force a replay in the first final against Atletico Madrid, were outplayed for large spells by St Etienne, while Peter Lorimer had a goal controversially disallowed at 0-0 versus Leeds. Lorimer later remarked that was his such influence "Beckenbauer disallowed the goal for the referee."
But the beauty of Cruyff during this era was a sight to behold, and it is one of football's great travesties that his wonderful Holland team fell to Beckenbauer's West Germany in the 1974 World Cup final. Along with Hungary 1954 and Brazil 1982, Cruyff's side are certainly the best team not to win the World Cup.
It is no coincidence that as soon as Cruyff left Ajax for Barcelona, their dominance ended. The attacking midfielder instantly became an idol in Catalunya, leading Barca to their first La Liga title in 14 years. He would shape the vision and philosophy of the club for the next five decades.
2nd Contender: Franz Beckenbauer
3rd Contender: Kevin Keegan
As Beckenbauer and Cruyff began to age, a younger Englishman arrived on the scene in Kevin Keegan. The forward helped Liverpool to their first European Cup in 1977 before moving to Germany to enjoy great success with Hamburg. He would go on to claim two Ballons d'Or but this generation belonged to Beckenbauer and Cruyff, who shared five European Footballer of the Year titles between them during the decade.
1977 - 1979: MARIO KEMPES
The end of the 1970s is a period where no individual truly stood out above all the rest. Liverpool were the dominant side in European club football - lifting the European Cup in 1977 and 1978 - but they were a team without global superstars.
Kenny Dalglish succeeded Keegan as Liverpool's centre forward and immediately made his mark on the side. He scored 31 goals in his first season and dinked a delightful winner in the European Cup final against Club Brugge.
But despite his status as one of Liverpool's all-time greats, Dalglish was never considered the best on the planet. Brazilian idol Zico certainly was during his heyday, and he was just starting to emerge as a world-beater at the end of the 1970s.
2nd Contender: Zico
3rd Contender: Kenny Dalglish
The Flamengo No.10 was scoring and making goals for fun at club level when he was taken to the 1978 World Cup as Brazil's new young hope. He helped the Selecao to third place and did enough for Pele to brand him as his successor.
But it is Mario Kempes who is the belt holder between 1977 and 1979. His goal record for Valencia during this time was magnificent, taking the Pichichi Trophy as La Liga's top scorer in successive seasons.
And his crowning moment came at the 1978 World Cup as he dragged Argentina to glory on home soil. He won the Golden Boot and Golden Ball at the tournament, famously scoring two goals through the ticker tape in the final against the Netherlands.
1979 - 1982: ZICO
There was certainly no shortage of superstars in the 1980s. Zico would establish himself as the outstanding player on the planet at the start of the decade. Ineligible for the Ballon d'Or, which was only open to Europeans until 1995, Zico was named South American Footballer of the Year twice in three years (finishing runner-up on the other occasion).
Between 1979 and 1982 he scored an astonishing 188 goals for Flamengo, leading them to two Brazilian league titles and the Copa Libertadores. But it is the free-kick specialist's destruction of European champions Liverpool in the FIFA Club World Cup final that most stands out from his club career. Liverpool hardman Graeme Souness dubbed Zico the best player he ever faced: "I wanted to see how he would react to a physical challenge, but I couldn't get close enough to him to find out!"
Zico was the poster boy of Brazil's star-studded 1982 World Cup team - also featuring Socrates, Falcao, Junior, Cerezo, Eder and Leandro - which exhibited some of the most magical football the sport has ever seen. Zico scored four goals – including stunning strikes versus Scotland and New Zealand – as Brazil seemed destined to romp to the title. However, they were stunned by Italy in a World Cup classic in Barcelona and Zico never got his hands on the cup his genius deserved.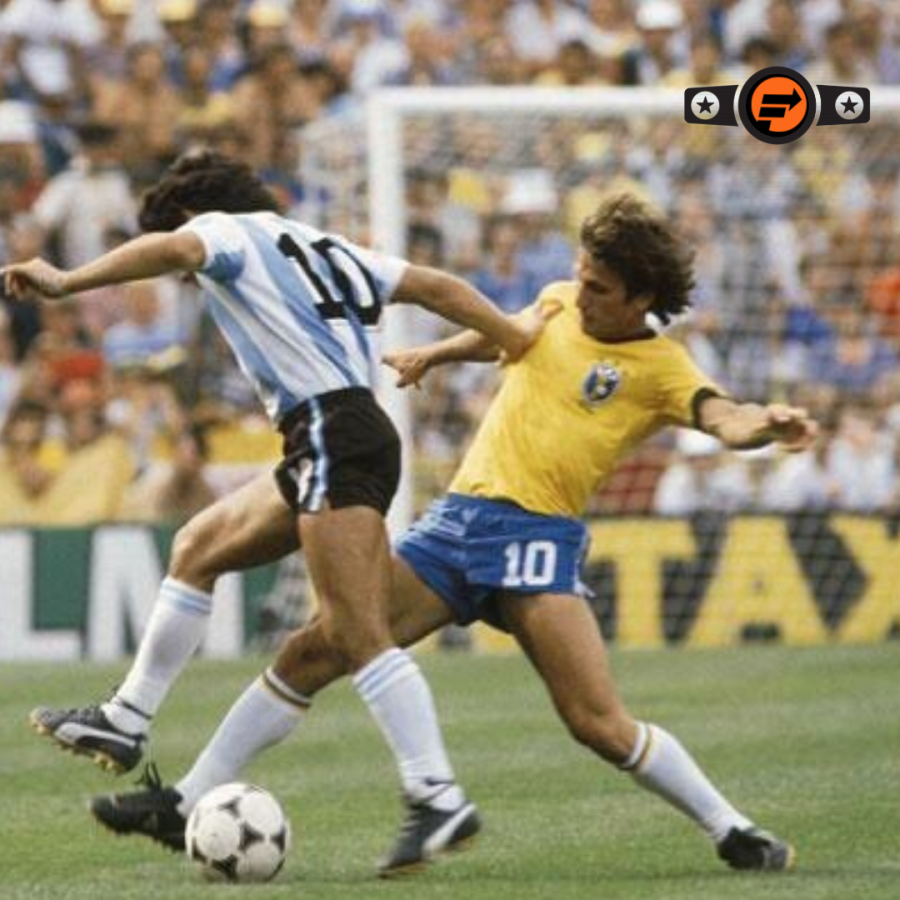 2nd Contender: Karl-Heinz Rummenigge
3rd Contender: Diego Maradona
Zico's main rival during this time period was West German marksman Karl-Heinz Rummenigge, who was Europe's most feared striker during the early 1980s. Rummenigge married physical prowess and pace with deadly dribbling and lethal finishing. He scored over 100 goals for Bayern Munich during these three seasons, leading them to two Bundesliga titles and a European Cup final. He also played a key role in West Germany winning the 1980 European Championship and finishing runners-up at the 1982 World Cup. His exploits saw him bag two Ballons d'Or.
There was also a precocious young wonderkid beginning to emerge by the name of Diego Armando Maradona. The Argentine had long been a sensation in his homeland but he introduced himself to the world with a series of sensational displays at the 1979 FIFA World Youth Championships, leading the Albiceleste to glory. He was soon the star of the senior side and between 1979 and 1982 he also, like Zico, won two South American Footballer of the Year awards.
1982 - 1985: MICHEL PLATINI
Despite exiting the 1982 World Cup in disgrace after stamping on the genitals of Brazil midfielder Batista, Maradona's brilliance saw him clinch a world record transfer to Barcelona.
Diego's two seasons at Camp Nou were unhappy on a personal level but he still regularly demonstrated just what a special player he was, scoring 38 goals in 58 games. Another world record transfer to Napoli in the summer of 1984 would truly ignite the Maradona legend.
Diego would enjoy some epic battles in Italy with Michel Platini. Between 1982 and 1985, the French maestro was unanimously the best player on the planet. He was the main man of a wonderful France side that, having fallen heartbreakingly short at the 1982 World Cup, emerged victorious on home soil at the European Championship two years later.
Despite playing as an attacking midfielder, Platini scored an astonishing nine goals in five games at Euro '84. This included consecutive hat-tricks, a last-gasp extra-time winner in the semi-final and another decisive goal in the final. Platini's performance at those Euros remains the greatest individual showing in the history of the finals.
The Number 10, who boasted incredible vision and long-range passing skills, was equally inspirational for Juventus. During this period he led the Bianconeri to a host of trophies, including a Scudetto, European Cup Winners' Cup and the club's first European Cup. Platini scored the winner in the final of the latter against Liverpool at Heysel, although that game will forever be associated with the tragedy that saw 39 fans lose their lives.
2nd Contender: Karl-Heinz Rummenigge
3rd Contender: Diego Maradona
It comes as no surprise that Platini won three straight Ballons d'Or during this era, an achievement that wasn't repeated again until Lionel Messi in 2011.
Another regular on the Ballon d'Or podium at this time was Preben Elkjaer, who finished third in 1984 and second a year later. The attacker burst onto the scene at Euro '84, forging one of the decade's best forward partnerships with wonderkid Michael Laudrup. He scored two goals in four games as a much-loved Denmark side reached the semis in France.
But it was Elkjaer's heroics for Verona that have really gone down in history. He played a key role as this tiny provincial side miraculously won the Scudetto in 1985, scoring one memorable goal without his boot against Juventus along the way. Not bad for a chain-smoker!
1985 - 1988: DIEGO MARADONA
Perhaps no one, other than Pele in the early 1960s, has been so far ahead of his footballing peers as Diego Maradona was between 1985 and 1988.
During this era, the iconic No.10 was virtually unplayable when in full flow. Internationally, he is of course immortalised after dragging an average Argentina team all the way to World Cup glory at Mexico '86.
His statistics for that tournament will surely never be matched in another World Cup. He was second for number of goals scored (5), and first for assists (5), chances created (27) and shots (30). He was as close to a one-man team as was humanly possible.
Against England in the quarter final, he scored both the most controversial (the 'Hand of God') and greatest goals in football history, the latter seeing him dribble past four opponents and the goalkeeper. He then dispatched two brilliant solo strikes versus Belgium in the semis before delivering the late assist for Jorge Burruchaga to defeat West Germany in the final.
The following season, Maradona became a living God in Napoli after taking the southerners to the first Scudetto in their history. This was an incredible achievement given not only the strength of the league at the time, but the fact that Napoli had twice narrowly avoided relegation when Maradona arrived at the club.
Diego became an emblem of the poor, agricultural south's fight against the rich, industrial north in Italy. And he kicked off weeks of parties in the streets by toppling a ruling class that had subjected Naples in particular to decades of abuse and suffering.
Diego's legacy in Napoli and Argentina will live on forever; no other footballer could have come even remotely close to achieving what he did with these two teams.
Other contenders: No-one. Not even close.
READ MORE:
The Best Player in the World, 1988-98: Van Basten, Romario, Ronaldo and more
The Best Player in the World, 1998-06: From Zidane to Ronaldinho
The Best Player in the World, 2007-2020: Enter Messi and Ronaldo