The rise and peak of Lionel Messi means the spotlight at Barcelona has shined in one place for a very long time, but greatness graced Camp Nou before the Argentine.
Were it not for Johan Cruyff, the footballing philosophy which created his platform wouldn't have existed. But arguably the most important man in Messi's early career, though, was his predecessor in the Blaugrana No. 10, Ronaldinho.
Not only did he inspire Barcelona to success after a difficult spell at the turn of the century, he also personally brought Messi into the fold. As a teenager enduring growth issues, the path seemed tough despite his obvious ability, but it was Ronaldinho who put his arm around him, as the talisman, and it was Ronaldinho who set up his first goal, too. Messi's own legacy dwarfs that of the man who came before, but it should never be forgotten what the two-time World Player of the Year did for him and the club as a whole.
RONNIE'S ARRIVAL
It was July 2003; Joan Laporta, a Cruyff devotee, had just been elected as Barcelona club president. While he wanted to go down a different route to arch rivals Real Madrid (who were in the middle of their Galactico project under Florentino Perez) and promote the youth academy, Laporta needed to make a statement in the transfer market. Ronaldinho was signed from Paris Saint-Germain, despite interest in both David Beckham and Thierry Henry, and his infectious personality and purity were the catalyst for the Cruyff ideology of total football to take hold.
He and Laporta's first choice of coach, Frank Rijkaard, kicked things off before Pep Guardiola truly left his mark with Messi at the forefront.
With the Catalans singing from the same hymn sheet, inspired by their latest hero, they went onto win two La Liga titles and a Champions League crown under Rijkaard. A two-year lull followed, which saw the baton passed from Ronaldinho to Messi, before unprecedented glory under Guardiola. That era, of which Barcelona are currently still enjoying the tail end, is what people will remember; but where and how it began is just as important.
Even that story isn't as straightforward as giving Ronaldinho all the credit. The turnaround appeared instant, after finishing sixth the season prior to the Brazilian's arrival, because he was able to work his magic in a team geared towards him without being unbalanced in any way. Yet, there was more to it than that; another signing made it all possible, one which often goes so far under the radar that some forget it even happened.
Edgar Davids is best known as a vital cog in the Juventus team of the early 2000s, after rising to stardom in the Champions League-winning Ajax side of 1995. As a defensive midfielder, he was hardly spectacular, but Barcelona needed someone of that ilk to allow Ronaldinho to shine, and they jumped at the chance to bring the 31-year-old in on loan in January 2004 at a time of need.
The highs of Ronaldinho's five-year spell in Spain created a narrative which his struggles aren't really part of. But halfway through his debut campaign, it felt like more of the same misery as before he and Laporta came onto the scene; Rijkaard's men welcomed Athletic Bilbao while sat in 7th position and the Dutchman's job was already under threat. There wasn't nearly enough bite to the new, silky-looking Barcelona side; Xavi Hernandez, who would go on to play a pivotal role for the club, and Ronaldinho were being kicked and marked out of games too often.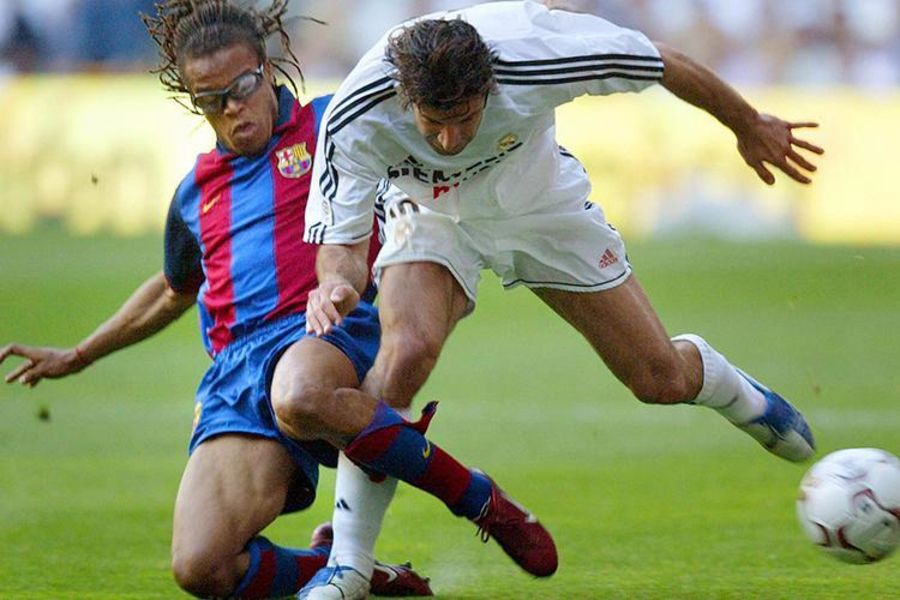 Enter Davids. Cast aside at Juve by the arrival of Stephen Appiah, he needed a new challenge. That day, he linked up brilliantly with Xavi and fellow countryman Phillip Cocu; the game ended in a 1-1 draw, with Patrick Kluivert netting for the hosts, but the impact would ripple into the remainder of the season. Barcelona went on an eight-match winning run, losing just twice more and going on to secure second place behind Rafael Benitez's Valencia.
In the following summer, the rebuild truly began; Kluivert, Cocu, Marc Overmars and Michael Reiziger were among the departures in a mass clear-out and Samuel Eto'o signed along with Ludovic Giuly, Deco and Edmílson. The latter rendered Davids surplus to requirements, and ten months later, Barcelona won La Liga. That is where the story begins for many; Ronaldinho would go onto become a world superstar, rewriting the football rule book, before eventually being eclipsed by Messi himself.
But without Davids, everything may have been different. Ronaldinho signalled a new dawn at Barcelona, but only once the team finally became strong enough to allow him to play his game. The pair only lined up together a handful of times over a six month period, but they helped change the fortunes of what would become arguably the greatest football team of all time. Messi, Cruyff, Guardiola and Ronaldinho are among those to be revered at Camp Nou, but Davids' role in making them great was vital, no matter how small it seems.