When Juventus shelled out €341 million on transfer fees and wages to sign Cristiano Ronaldo in 2018, it was questioned whether such an astronomical outlay was wise for a 33-year-old.
The biggest concern was not necessarily whether Juve could make their money back. Indeed, as forecasted, Cristiano has proved to be a significant economic boon for merchandise, building the club's brand and negotiating better sponsorships.
The worry was more whether Ronaldo had much longer left at the pinnacle of the game. The consensus was that perhaps we could expect to see one great season in Turin before he gradually started to decline.
Not for the first time in his career, though, he is proving the doubters wrong.
He is currently on a 11-game Serie A scoring streak, equalling the single-season record set by Fiorentina goalscorer Gabriel Batistuta in 1994-95 and by Sampdoria veteran Fabio Quagliarella last year. Should Cristiano find the net in Sunday's potentially Scudetto-deciding clash against Inter, he will set a new record.
Since the start of December he has hit an incredible 19 goals in 15 games for Juventus in all competitions, failing to score in just one match during that time. Between club and country, he has 23 goals in his last 18 appearances, averaging 1.28 goals a game.
Still in February, Ronaldo has 36 goals in 2019-20. Should Juventus and Portugal go all the way in their respective tournaments, he could play another 34 games between now and the end of the season and if he maintains his scoring rate he would finish the campaign with 79 goals.
Of course, that is all hypothetical and it is improbable that both Juventus and Portugal will reach the finals of the Champions League and Euro 2020. Ronaldo will also surely sit out the odd game and it will be difficult for him to sustain this sensational scoring spree. But what isn't in doubt is that Ronaldo's recent output is comparable to his best days at Real Madrid.
As always, he is proving to be a clutch player who scores when it really matters. Twelve of his strikes have broken the deadlock in matches, while a further 14 have been decisive in turning draws into wins or losses into draws.
The reason that Juventus are top of Serie A is mostly down to Ronaldo. The Bianconeri have not performed well for much of the season and they have 13 points more than their Expected Points (xPts) tally. It is the brilliance of Ronaldo – and to a lesser extent Paulo Dybala – that has bailed Juventus out time and again.
Ronaldo is third in the race for the European Golden Boot and has 4.54 goals more than his Expected Goals (xG) projection. Of those who have played at least five games, he boasts Serie A's best average player rating on Football Critic this season. Meanwhile, only Lionel Messi (10), Ciro Immobile (8) and Timo Werner (8) have more FC man-of-the-match awards than Cristiano (7) in European leagues.
He has scored 44 per cent of Juve's Serie A goals. These include a number of superb strikes, such as the iconic headed winner versus Sampdoria where he leapt to a barely believable height of 2.56 metres, but only the second highest jump of his career; he previously soared to 2.93m when scoring for Real Madrid against Manchester United in 2013.
The fact that the five-time Ballon d'Or winner is still performing at such a level at his age is a statement on the man and it is fair to say that no top-level footballer in history has been performing this well, and this consistently, in their mid-thirties.
If we go through the list of recent Ballon d'Or recipients, this argument is certainly upheld. By the age of 35, Kaka was playing for Orlando City while Fabio Cannavaro was heading back for a disastrous second spell at Juventus. Ronaldinho, Andriy Shevchenko, Zinedine Zidane and the Brazilian Ronaldo all retired between the ages of 34 and 35. If we go further back in time, all-time greats such as Marco van Basten, Ruud Gullit, Michel Platini and Karl-Heinz Rummenigge had kicked their final ball long before they reached Ronaldo's current age.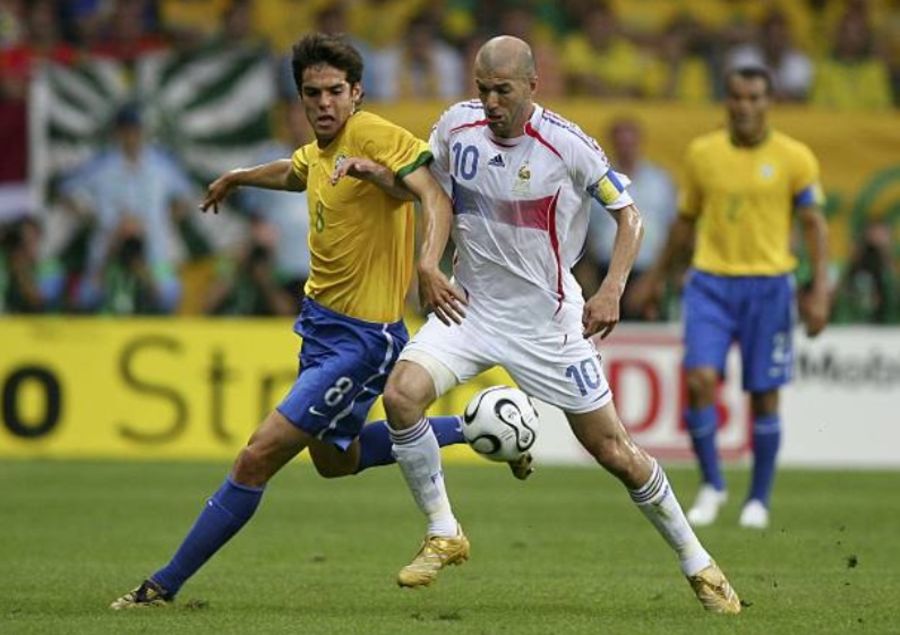 Others who are often included in the greatest-ever debate were well past their best as they approached 35. Pele, Eusebio and Franz Beckenbauer were playing in the United States, Diego Maradona was back in Argentina, while Johann Cruyff was returning from the NASL for a swansong in Holland.
There are a number of legendary defenders and goalkeepers who were still world class into their mid and late thirties - most notably Paolo Maldini - although footballers generally last longer further down the pitch. If we rule out the likes of Ferenc Puskas and Alfredo Di Stefano, who played in an era before football became even remotely professional, then no one at the very highest level has ever matched Ronaldo's offensive output at his age.
If there is one criticism of Ronaldo's current season, it is that he only has two Champions League goals. But, as we have seen time and again during his career, it is the knockout stages where he comes alive. And given his outrageous run of form, it would be a surprise were he not to score for Juventus against Lyon on Wednesday evening.