IN BRIEF
⚽ Valencia tactically out-thought and out-worked Barcelona in their 2-0 victory
⚽ Messi can't do everything on his own
⚽ Griezmann is still stuck in Simeone mode
⚽ De Jong deserves better as a generational talent
To an extent, fans of Barcelona have been given exactly what they wanted. The much-maligned Ernesto Valverde was relieved of his post and the Barcelona board moved to replace him with former Real Betis coach Quique Setien.
⚽
The appointment of Setien was seen as something of a coup and, more importantly, seemed to be a move back towards what is seen by many as the identity of the club. During his time at Betis, the side from Sevilla at times looked more like Barcelona than Barcelona did; Setien has made no secret that he models his way of playing and his footballing philosophy on that of the late Johan Cruyff and that is what many connected to Barcelona feel the club needs to move back towards.
Not since a certain Pep Guardiola was promoted from the B team in 2008 has there been such a sense of expectation at the Camp Nou surrounding a new coach. There are still questions, however, surrounding whether Setien has the players at his disposal to make his preferred game model work and those questions draw upon the curious recruitment at the club in recent seasons.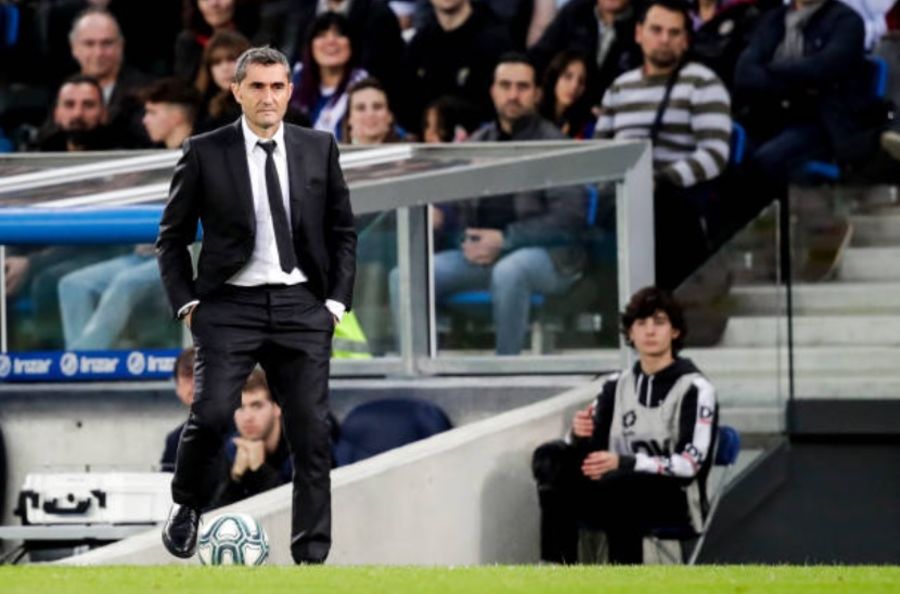 At the time of writing, we are three matches into Setien's tenure and results have been much as they were under Valverde. A 1-0 win at home to Granada was followed by a close 2-1 win in the Copa del Rey over Ibiza and then this weekend past a 2-0 loss away to Valencia.
EARLY SETIEN SIGNS, BUT...
Early signs are therefore less than outstanding but at the end of the day, they are just that, early signs. In situations like these, it can be interesting to isolate a single match and see what we can learn from it and in most cases, it tends to be more illuminating to look at a loss than a victory and as such we will turn out attention to the match against Valencia.
Valencia themselves have had a somewhat turbulent season with the decision made early to remove their head coach, Marcelino, just a few matches into the 2019/20 season but they appear to be more stable now and it showed on the pitch.
When we breakdown any match the most common first step is to consider the 'tactics' of the two sides. In football, though this term can mean too many things ranging from formations to the tactical concepts that underpin a team's approach and dictates how they look to play whether in possession of the ball or out of possession. To fully understand the picture of a match then we have to be able to identify what makes these concepts so important.
We should, however, start with the formations or the systems of the two sides.
When Pep Guardiola stated that formations were just 'phone numbers' he was making an important point. 4-4-2 or 4-3-3, 4-5-1 or 4-2-3-1 the actual numbers of a formation are not important. What matters is how players within this formation or system occupy space. Often we will see a coach use different systems within the same match depending on whether his side are in or out of possession.
A 4-3-3 in possession, for example, can become a 4-4-2 out of possession as one of the wide attackers drops back into the midfield block. Formations, therefore, are fluid and ever-changing based on the conditions of the match, the position of the ball and the positions of the opposition. Where they are important and where they do offer an insight into the mind of the coach is when we consider the positions on the pitch that players are looking to occupy.
In this match, Valencia set up in a 4-4-2 system. The primary aim from their coaching staff was focussed on the defensive phase as they knew that Barcelona would have a lot of possession. The 4-4-2 then was designed to occupy central spaces with the wide midfielders moving narrow and the two forwards dropping behind the ball. This would constrict space centrally and look to force Barcelona to attack down the wide areas.
BARCA FORMATION SURPRISE
Barcelona, on the other hand, set out in an unexpected 3-5-2 variation with Sergio Roberto playing as the right-sided centre back. In attack, Leo Messi and Antoine Griezmann played but both would look to drop into deeper positions. On the right-hand side the teenager Ansu Fati looked to provide the width and on the opposite side, Jordi Alba attempted the same.
With this change of system Setien inadvertently played into the hands of Albert Celades and his coaching team. Valencia were set up to be strong centrally but to give up space wide. Now, Barcelona had only one player wide on each side of the field. The onus then would be on the away side to find pockets of space within the Valencia defensive block that they could exploit to break through the centre.
Unfortunately, Barcelona failed to find these pockets for two reasons. The first was the incredible work rate of the home side. Often when a team plays in a low to medium defensive block we see players get complacent when moving to cut off passing lanes. This was not the case here; Barcelona moved the ball from side to side, probing for a passing lane to allow them to progress the ball and threaten the penalty area.
As the ball moved across the white wall of Valencia shirts moved with it and Barca were never given space or time to find the pass that would utilise the centre. While the work rate of Valencia was important we also have to acknowledge that Barcelona were also at fault. The speed of their passing was too slow, with players seeming to want to take an extra touch over and over again and this took the pace out of the game. If Barcelona want to get back to breaking down deep blocks then the ball has to move quicker either across the pitch or forward as they look for opportunities to break through.
It was also clear that Valencia had a plan to attack when the opportunity presented itself. With Barcelona pushing up relatively high while enjoying 71% possession and with their wing-backs on either side having to adopt attacking positions, we saw Valencia move quickly in transition with the wide midfielders shifting quickly into wide areas, and the forwards pushing the Barcelona defenders back. These quick movements in transition were key for Valencia and despite only seeing 29% of the ball they still managed seven shots, with six on target.
Indeed, for all of the possession enjoyed by Barcelona they did not appear to have a plan on breaking down the opposition defence. Too often the ball moved wide but then came back into the centre and even Lionel Messi could not find space in the middle.
On the day, then, Valencia executed their game plan better than Barcelona did and they took their chances when presented with them. Tactically, they were better drilled and they worked hard to prevent Barcelona from creating opportunities from high-value areas of the pitch. In the end Valencia generated 1.46 xG from just seven shots while Barcelona ended up with 1.54 xG from 14 shots at goal.
While it is too early to cast strong judgements on Setien and this Barca team, we do have to start considering key questions surrounding players.
MESSI NEED HELP, DE JONG NEEDS RELEASED
While Messi is still Messi and still liable to find pockets of space and create chances on his own he cannot do so himself. Griezmann still appears to be playing in the style demanded by his former coach Diego Simeone at Atletico Madrid as he struggles to assert himself.
In Frenkie de Jong, Barcelona signed a player who seems to be a generational talent but will that talent be utilised at Barca? He is a ball carrier and progressor of the ball of the highest order but he is being positioned too high to help this side break down the opposition.
Should De Jong become the '6' at the base of the midfield at the expense of La Masia graduate Sergio Busquets? This would provide De Jong with the space to control the game but replacing Busquets may become as much as a political issue as a sporting one.
Over the course of the rest of the season, we are likely to see this Barcelona squad adapt to Setien's style of play. Whether that will be enough to hold off the challenge of Real Madrid at the top of La Liga remains to be seen. Whether Barcelona win the title this season or not there is no doubt that the squad needs to be reworked and reshaped as a priority. Whether Quique Setien will still be at the club when that squad regeneration takes place remains to be seen.
READ MORE
⚽ Why are Barcelona creating a framework for Antoine Griezmann to fail?
⚽ Lionel Messi, and the perfection of every skill (plus the ones he invented)