Martin Odegaard is still only 20.
If you haven't been following his career of late, he could have become dangerously close to being a 'that guy' - the one who bursts onto a scene in a prodigious fashion only to have burned all-too early. There's been hundreds, thousands of them, their careers stymied by a multitude of reasons; fame, attitude, misdirection, excess or, sometimes, just not being as good as people thought.
But Odegaard's hype train always seemed to have more observers on board than most others and, finally, as the decade's biggest teenage talent, Odegaard is ready to accept the mantle of the player we all hoped he would be.
With the greatest respect to goalkeepers, and ball-playing centre-backs, and high full-backs, Odegaard's style is that of the money maker, the difference maker. His first coach, Harald Johannessen, once said of him: "He gets the ball in very small spaces and finds solutions.
Odegaard is ready to accept the mantle of the player we all hoped he would be.Paul Macdonald
"He can open every defence with the smartness; he makes very good passes." This rare ability of one clubs pay for and people pay to see.
After signing for Real Madrid at 15 to an overblown welcome, then bouncing around training with the first team and featuring sparingly with Castilla, an 18-month move to Heerenveen offered nothing in terms of forward momentum.
Having been considered a generational playmaker, the type who can see things other players can't, the entire experience was unfulfilling and brutally disappointing. Operating from a right-wing position he achieved just two goals and one assist in 2170 minutes of football in 2017-18, and while those numbers aren't everything, his underlying numbers were 2.7 xG and 3.8 xA respectively. He completed just 17 through passes in that time and, indeed, his overall passing was...safe. We don't want the next big thing to be safe. We want them to be risky, but acheive great things. Odegaard just... wasn't. He was keeping the ball, playing laterally, not hurting the opposition. He was scared of consequences.
Then in 2018-19, when farmed back out on loan again to the Eredivisie and this time Vitesse, a different player arrived. He was still operating from the right wing but his passing statistics were around 10% poorer than at Heerenveen - a wholeheartedly good thing. Odegaard was trying things, attempting to create and take the risks. His hero is unequivocally Lionel Messi and while his cute play is far from the brute brilliance of Messi's dribbling and offensive play - if anything, a player like Michael Laudrup comes more immediately to mind in terms of a comparison - he's had to deal with the same impossible expectations and while at Vitesse he finally felt fit to stand on that particular pedestal.
He produced 11 assists on an exceptional xA of 14.23 and nine goals (xG 5.88). He had 120 successful dribbles and 79 progressive runs, both seriously increased from the Heerenveen year. He added 79 touches in the box to become a genuine threat.
Then, back at Madrid with reputation restored, Real Sociedad came calling, and it's delightful to watch him convert that Eredivisie form to become one of La Liga's most prominent midfielders.
He is drifting inside more, manipulating matches in one of the best leagues in the world and bossing opposition as a man, not a boy. When you snapshot his bemused expression in his only Real Madrid appearance to date, replacing Cristiano Ronaldo at the age of 16 as a substitute against Getafe, the transformation is clear. As Ronaldo shakes his hand, he can't believe he is there - he feels he probably shouldn't be. That would be hard for anyone to take. But now, only 20 but a man in terms of his physiological development since that night as CR7's understudy, he is accepting, dutifully, his second chance.
He has three goals and three assists in 1259 mins in 19-20 for la Real, including a colossal 29 shot assists. Only Messi and Ruben Rochina of Levante have a higher completed through pass P90 total, and when it comes to WyScout's Smart Passes - defined as an attacking pass that progresses play past a minimum of 2/3 players - he is only behind Messi. The MOTM performance against Atletico (one of five according to FC Match Ratings), the virtuoso display against Eibar culminating in a wonderful curling finish, the scoops, flicks and style, the swagger. He isn't passing to the side any more. The playmaker of a generation is arriving.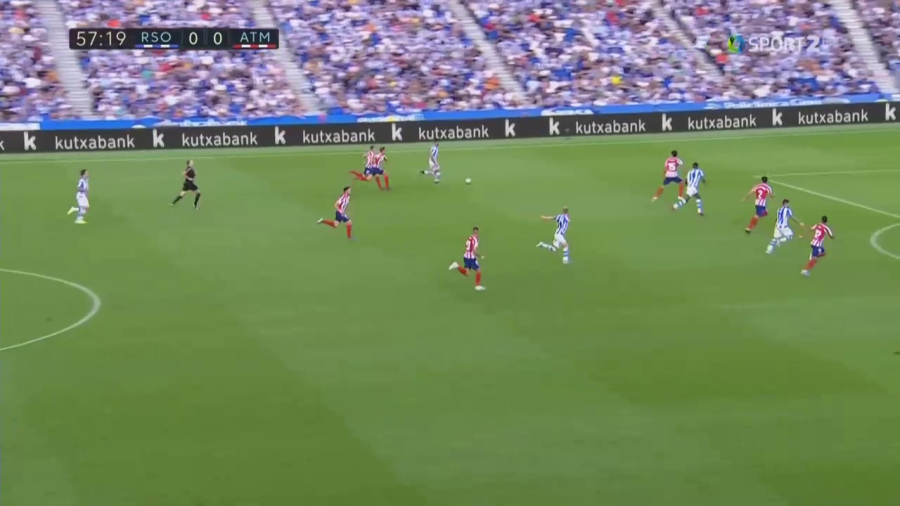 He has some way to go. He knows that a return to Madrid and ultimately fulfilling the prophecy would mean usurping some serious talent, and that's before considering the multitude of other aspiring loanees - Tafekusa Kubo (Mallorca), Dani Ceballos (Arsenal) and Achraf Hakimi (Dortmund), among others - returning to stake their own individual claims.
But step one has been taken, emerging from his own shadow. He is making steps and will hope to be part of a Norway team who are a play-off away from the Euros. And after that, he's meant to be back at Sociedad again. But who knows.
"I feel I'm playing like more of an adult now," he told ESPN recently.
"I feel like I'm creating more, running more, feeling stronger on the pitch, and I feel like it's part of growing up."
He has grown up with the biggest of spotlights shining on him and now, finally, eh seems to be revelling in it.