Who is better, Lionel Messi or Cristiano Ronaldo?
There is, of course, no easy way to answer that particular debate and the side of the argument that you support seems entirely subjective and dependent on your own particular view of football.
The truth is, however, that we are now fast reaching the end of that conversation, as both of those players move past their peak in terms of age. Indeed, we have already seen a regression in the performance and output of Cristiano Ronaldo at Juventus, and while the same cannot be said of Lionel Messi at Barcelona, he is beginning to profile more as a creator of chances rather than a goalscorer.
READ MORE:
Is Cristiano Ronaldo finally beginning to slow down?
Lionel Messi: Is he as good as ever, or are his numbers falling?
With this natural regression, the conversation will naturally turn towards the Ballon d'Or. Now is an interesting time to look beyond those two to see which younger players are poised as the 'best of the rest', starting with the most obvious candidate - 21-year-old France and Paris Saint-Germain forward, Kylian Mbappe.
In retrospect, it should come as no surprise that Mbappe has developed as quickly as he has. He made his first-team debut as a 16-year-old for Monaco and was a key part of the team that reached the semi-final of the Champions League and won the French league title in the 2016/17 season.
After that season we saw Mbappe make the move, on loan initially, to Paris Saint-Germain as the latest expensive addition to their footballing project. He quickly established himself as a key player in a squad full of stars, despite his young age.
Another sign of his incredible potential is that senior players were able to recognise this and accept his influence both on and off the pitch. His initial exposure to first-team football was from the right-hand side of the attack, but he has gradually moved to a central position where he is able to use his incredible pace to constantly threaten to run in behind the opposition defensive line.
To better understand the performance of Mbappe we can use data to build a picture.
First of all, let's consider goal contribution. This is a combination of a player's goals and assists that gives an indication of how many of a team's goals that player contributes. You can follow the same process with player's expected goals and expected assists and when you compare them you start to build a picture of whether that player is overperforming or underperforming their expected levels.
In the chart above we have plotted goal contribution vertically and expected goal contribution horizontally. The size of the mark that belongs to each player is dictated by their minutes played over the course of the 2019/20 season. The larger the mark, the more minutes they have played.
READ MORE: Expected Goals - what is it?
Straight away we see the names that we would expect to have as outliers; Lionel Messi has 1.48 goal contributions P90 and 1.20 expected goal contributions P90 as the top performer. In terms of expected goal contributions (xGC), however, we see Kylian Mbappe as the outlier with 1.37 goal contributions P90 from 1.62 expected goal contributions per 90. We should also point out that Mbappe has accrued this output from 1,515 minutes, compared to 1,890 minutes for Messi.
Expected Goals Contributions (xGC): The amount of goals and assists a player would expect to accumulate given their shot positions and the opportunities provided to team-matesFootballCritic Definitions
That Mbappe has an xGC of 1.62 should come as no surprise to those that watch him play regularly. Despite his young age, the French striker has developed an outstanding sense of shot locations, and his pace and explosiveness allow him to gain separation from opposition defenders as he enters the penalty area. Indeed, a look at his shot location chart over the course of the 2019/20 season shows that he takes the vast majority of his shots from inside the penalty area.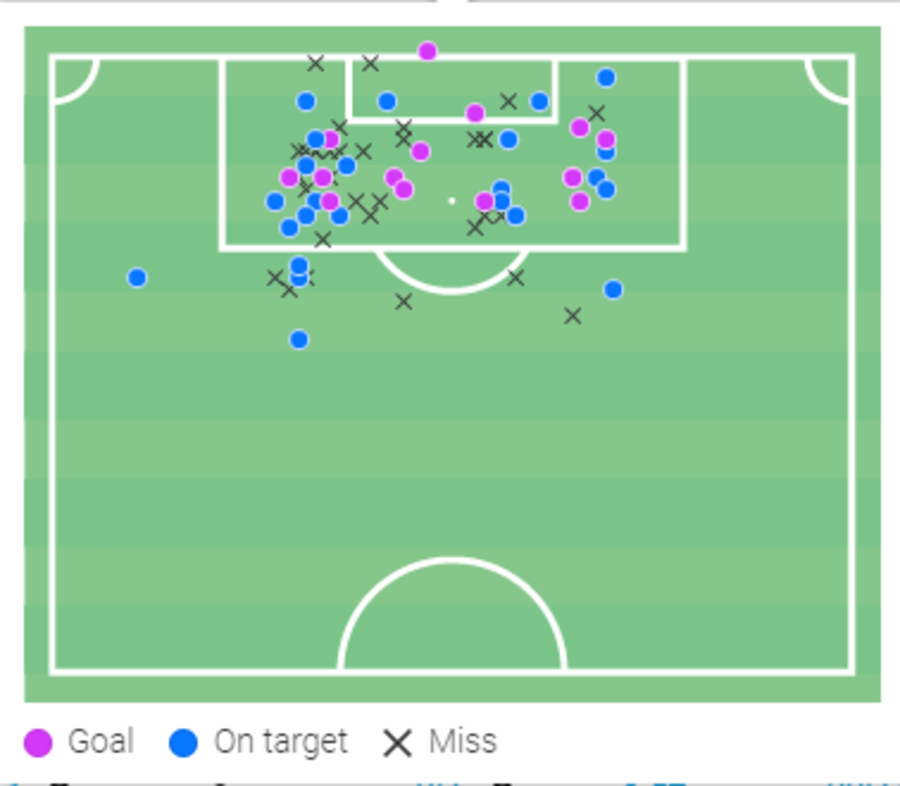 Indeed, he has scored all of his goals from inside the penalty area. Even beyond that, there have been few shots taken from outside the penalty area.
This is an interesting point when you start to factor in the playing styles that PSG are likely to face over the course of the season, especially domestically. Most sides play a deep defensive block and allow PSG to dominate possession. This negates the space between the lines and behind the defensive line that a player with pace, like Mbappe, can expect to exploit. Instead, the movement from the forward players has to be sharp in order to create space and chances.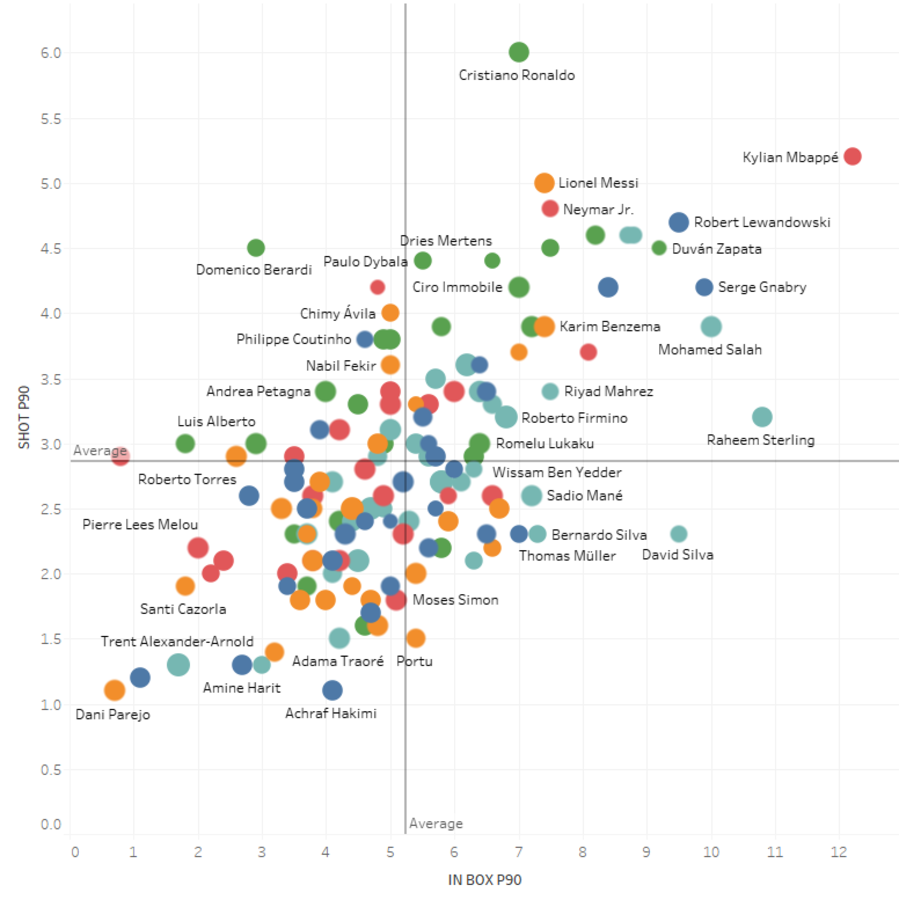 Another interesting way to compare the statistical output of attacking players is to compare shots P90 and Touches In Box P90. Once again the outliers are familiar.
In terms of shots at goal we see Cristiano Ronaldo at the top of the chart with 6 shots P90, although he is only taking 7 touches in the opposition box per 90 minutes. The other, once again, is Mbappe with 12.2 touches in the opposition box P90 and 5.2 shots at goal P90.
This comparison between the two players is interesting. We can safely assume that Ronaldo is taking a large proportion of his shots from outside the penalty area, which follows a familiar pattern throughout his career, while the opposite is true of Mbappe, as we have already seen above.
The term 'generational talent' is one that is perhaps used too often in football these days, although if it was to apply to any player then it would be Kylian Mbappe.
Typically a footballer will develop certain aspects of their game as they gain more experience at first-team level. For forwards these tend to include things like awareness, and positional or tactical awareness. We would expect a player, as they gain more experience, to take shots from locations that carry a higher expected goals score, for example.
That Mbappe has already made these adjustments at the age of 21 is frightening. He has taken the aspects of his game that were initially raw - finishing and final ball - and polished these to the point that he is now one of the most deadly penalty area finishers in the game.
Mbappe could perform at the top of his game for the next 10 years. Over the course of that time it is likely that he will get even better and continue to refine and add to his game. If we talk about the next tier of footballers, there can be no doubt that Mbappe is leading the race to lead the next generation in a post-Messi and Ronaldo world.