FM CHALLENGE
With football in lockdown, the virtual challenge is on. We are all playing Football Manager, right?
With so many different 'challenges' out there, I thought I would do something a bit different with the game. Normally, when I find the time to play FM I tend to play the same way that I would run a club in real life; I spend time thinking about recruitment and the financial implications of the moves that I make and I like to prioritise youth development and player pathways.
What would happen, though, if I was forced to play without that control? That was the question that led to the idea behind this save and series.
I will be assigning the responsibility for all transfers, in and out, to a director of football.
They will have the ability to sell any player from my squad at any point and also to spend the club's money in whichever way they see fit.
What could possibly go wrong?
First, though we need to decide on a club.
I decided that in order to make this engaging there had to be an element of challenge. As such I have taken charge of Norwich City at the start of the 2019/20 season. I wanted to take a newly-promoted side and one that has a small budget compared to the rest of the league. I also thought that in terms of board expectations, which are more important in FM20 than ever before, Norwich would be relatively reasonable in what they wanted from us.

Expectations: Fight Relegation
So, initial expectations are set. In terms of the Premier League, we are expected to battle bravely against relegation. My own expectations are at minimum mid-table so there should be no issue there. We are also expected to reach the fifth round of the FA Cup and the fourth round of the Carabao Cup. That might be slightly trickier given the fact I plan to prioritise league form.
Oh, and as you can see a failure to reach any of these expectations will make my position at the club untenable. No pressure then.
The next step is to make sure that we have a good Director of Football in place. This is especially important given the fact that they will be in charge of all transfers. Luckily Norwich already have one of the best around.
Meet Stuart Webber.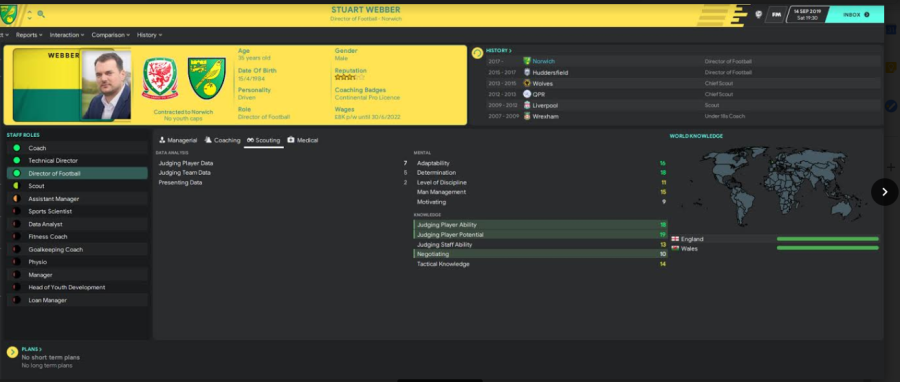 Stuart Webber has been one of the most integral pieces in Norwich's promotion campaign and in preparing them for this season in the Premier League. I have to admit that in-game I am a little concerned that he has a negotiating attribute of 10 but everything else is very, very good.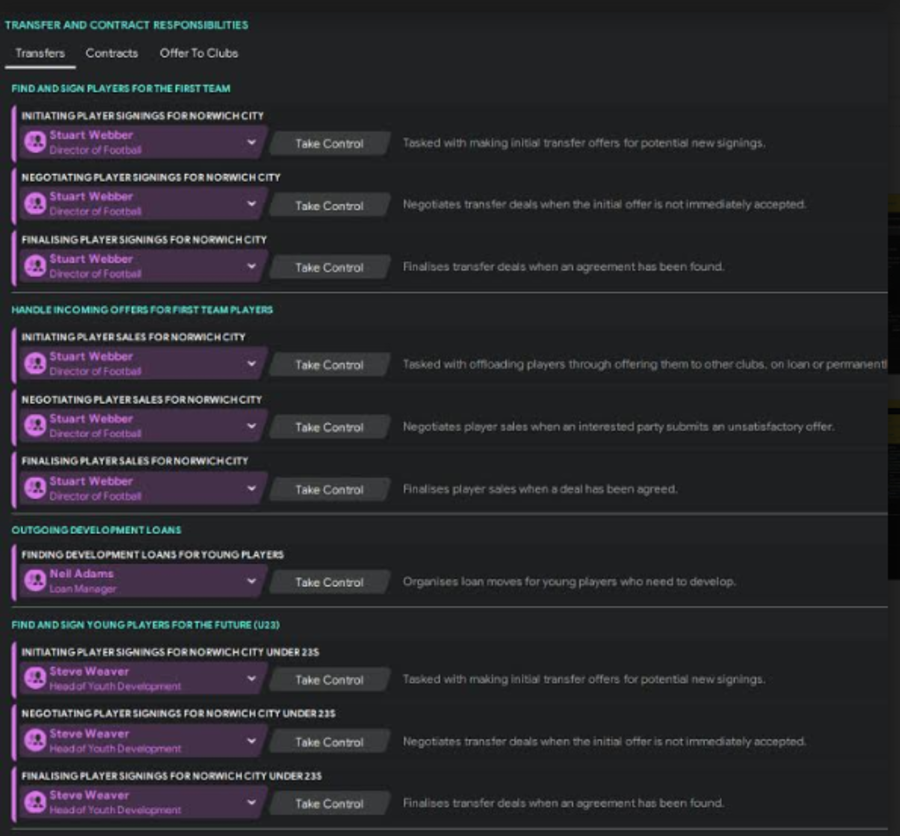 I have put Webber in charge of all first-team transfer business while the head of youth development Stuart Weaver is allowed to sign young players for the future. Over the longer term, it should be interesting to see how the squad would shape up with the AI doing all of the signing and selling.
So, we have our team and we know who is effectively in charge of who to sign and who to sell. What kind of position is the club in though?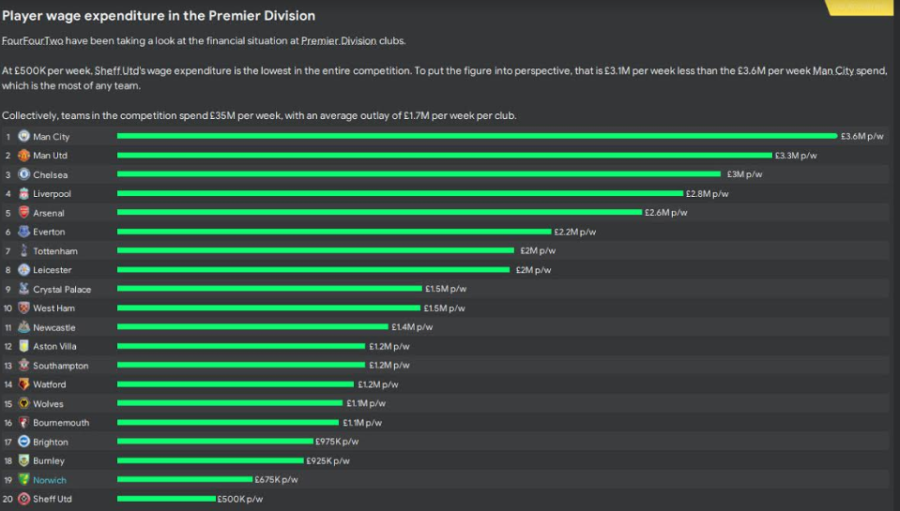 I like this graphic. A nice and clean representation of wage spending in the Premier League as we go into the season. Interestingly, our spending is not bottom of the pile, with Chris Wilder's Sheffield United spending less.
Given that I am playing on the latest update (with transfers from January) this is surprising given that Sheffield United also have Sander Berge. It does offer a nice visual representation of the size of the challenge ahead though.
We are only spending a fraction on wages compared to the top clubs in the league. Given that there is thought to be a direct link to league performance and spending on wages this could prove to be an issue going forwards. We know then how our spending on wages is looking, how is the general bank balance doing though?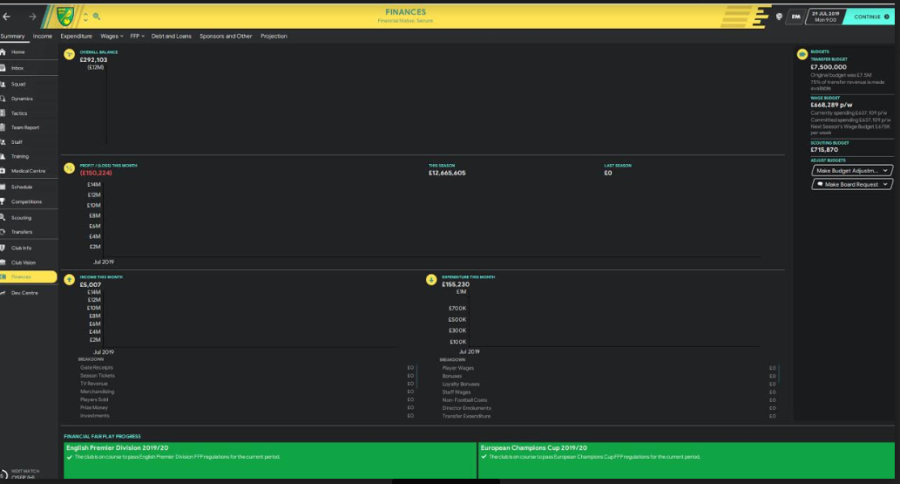 Transfer Budget: £7.5m
Oh….we have no money. £292K in the bank and an available transfer budget of £7.5M? When I play the game normally I try to avoid allowing the club going into the red at all if I can help it. As such I would not be signing any players given the financial situation. Luckily, Stuart Webber looks like a sensible chap, I'm sure he will take a similar approach and not do anything to put the club in a dangerous financial position, right?

Signing: Amine Younes
Wait. what? We don't have the money to be spending on new players? Even if we did have the money I think that Amine Younes may be one of the last players that I would look to sign. The German winger had impressed during a spell with Ajax but then forced a transfer to Napoli where he has achieved, well pretty much nothing. Signing Younes would offer cover for Todd Cantwell on the left but that's about it.
I consoled myself with the fact that Younes is unlikely to agree to the financial package that we would be able to cobble together from the royalties of owner Delia Smith's book sales.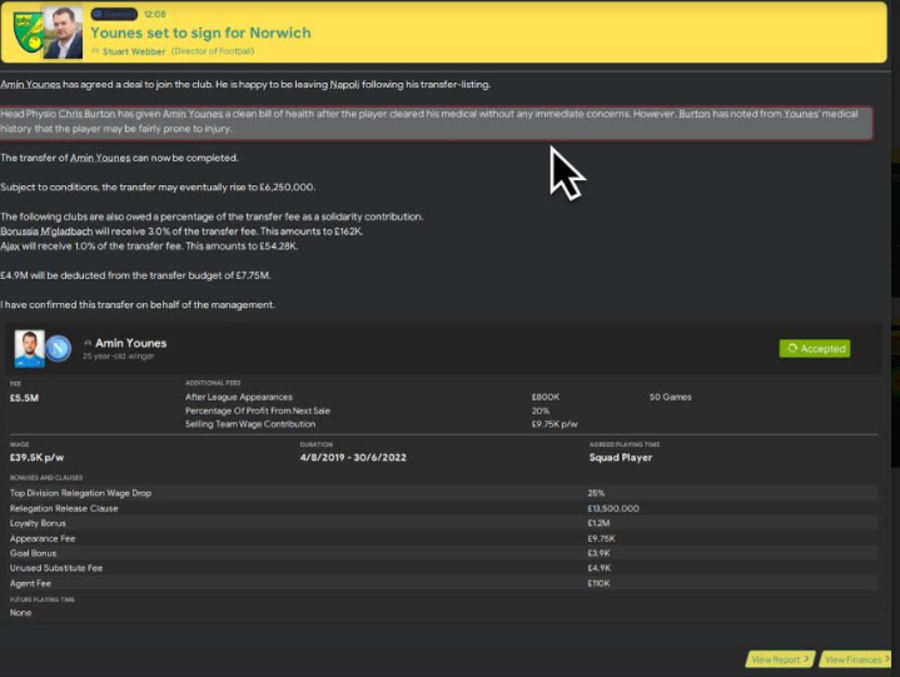 Oh! Well so much for that. Amine Younes joins then for a basic wage that immediately catapults him to be in the top 3 earners at the club along with a series of add ons. Our head physio also points out that Younes is injury prone. Recruitment is a joined-up operation in which a lot of information has to be collated and taken into account. Our DoF, however, appears to be more of a one-man-band.
At least he should be finished now and I can start to meld the squad into a tactical system before the official start to the season.

Signing: Luis Abram
Stuart! Stop!
Ok, so this time there is at least method to the madness of the DoF. We are short on cover in the centre of the defence and I don't really want to be relying on the likes of Grant Hanley. Still, though, we have no money!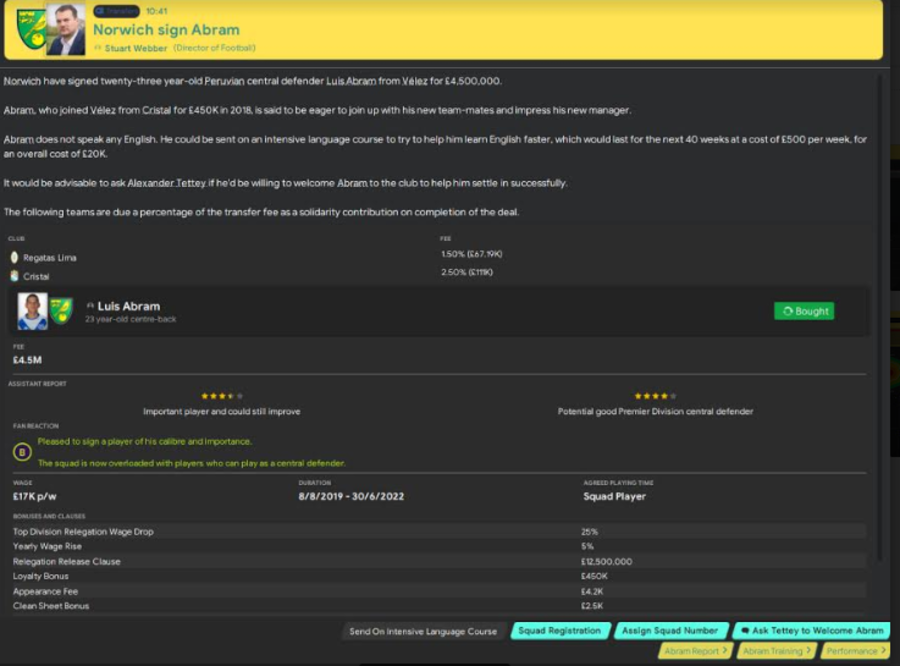 I suppose I should be grateful that this time the wages are at least reasonable. Clauses that offer more money for appearances and clean-sheets though will be less than helpful. Luis Abram is a Peruvian international central defender who we have signed from Velez Sarsfield in Argentina, The thing is that he is actually quite good and should work well as a partner to the young English defender Ben Godfrey.
A mixed bag to start with I think. Stuart Webber has already made moves that I wouldn't have but I can't deny that the squad looks a bit deeper and stronger with the signings of Younes and Abram. He has obviously signed these players based on the projection that our budget is expected to be around the £12M mark at the end of the season before prize money is allocated.
What could go wrong with a plan like that?
In the next instalment, we will start the season and show what happens when I decide a player is a key player and then watch him get injured…...