Article first published February 2020
⚽ Roman Burki is a position where Dortmund could immediately strengthen
⚽ Burki turns 30 and his contract expires in 2021
⚽ Which players fit the profile for a Dortmund goalkeeper?
Roman Burki in 2019/20
Roman Burki has been Borussia Dortmund's starting goalkeeper for five seasons after arriving from Freiburg to replace the club legend Roman Weidenfeller. While he has had some incredible moments between the sticks, Burki has under-performed as of late and has a contract expiring at the end of the 2020-21 season.
The Swiss goalkeeper will be 30 in November and is by no means detrimental to Borussia Dortmund, but could easily be upgraded on to match the title ambitions of the club.
Using data recruitment, we can find a goalkeeper that fits Dortmund's demands in a goalkeeper and matches the club's philosophy. Ideally, the goalkeeper should be reasonably priced, so a preference of players valued (per Transfermarkt) of less than €20m will be looked at.
Beyond the price tag and the performance, potential players should be under 27 years old in order to offer potential performance improvement and even potential profitability on a transfer, although this is less of a priority.
We can also include a score in the categories evaluated to make database sorting quicker. While it is safe to assume individuals will exceed Burki's performance in certain categories, it is tough to have individuals exceed in all categories. With that being said, players can be assigned an overall score for their performance. This score will be as follows:
- Finish First in Category: +5 Points
- Finish Second in Category: +3 Points
- Finish Third in Category: +2 Points
- Finish Above Burki in Category: +1 Point
When all categories are evaluated, the best candidates will emerge with the highest scores.
Roman Burki's output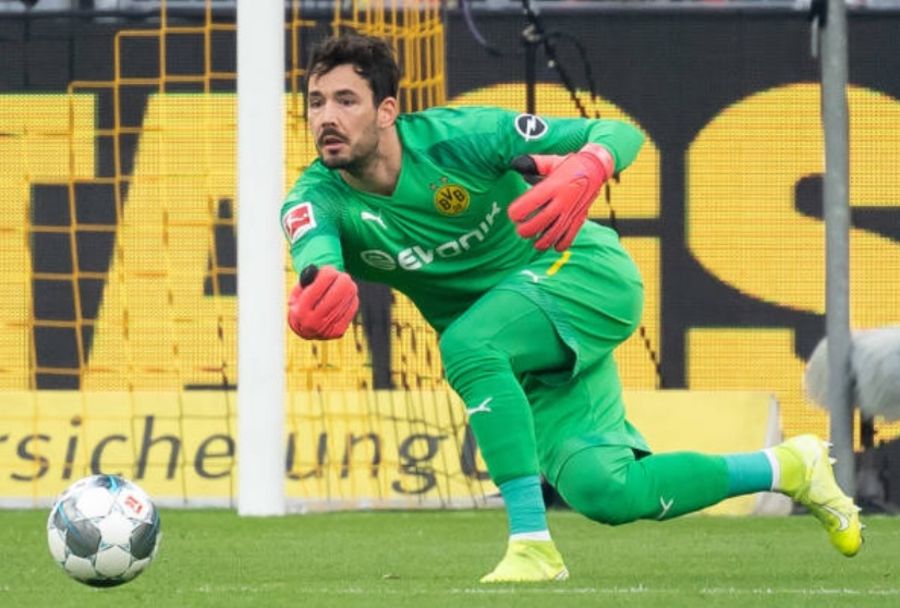 As we can see in the table above, Burki is tasked with a significantly above-average amount of short passes per match and receiving passes per match, however, when compared with the average of the database, Burki is 20% below average in save percentage and under-performs his expected conceded goals average (xCG) by -0.48, which is -0.44 below average.
In this recruitment database, 48 goalkeepers were found as potential candidates to replace Burki.
Of the 48 goalkeepers, 48 of them have a better save percentage than Burki. When it comes to xCG difference, 44 of the goalkeepers outperform Burki. This means that finding a better shot-stopper than Burki is not a challenge, it is finding a goalkeeper that can easily transition into Burki's distribution workload.
So who leads in each category?
Save Percentage

Only three players are currently breaking 80% with their save percentage, and considering that these players are all valued under €20m, it is safe to say these are elite budget stop-shoppers.
Leading the pack is Dinamo Zagreb's Dominik Livakovic. The 25-year-old is valued at €13m and is saving an astonishing 0.933% of shots. In case you were wondering, these numbers would put him on the upper-tier of ice hockey goalies, but Livakovic is minding a much larger net and he is protecting it incredibly well.
Borussia Dortmund could easily be a more attractive option thanks to being able to offer Champions League football on a consistent basis along with promising first team minutes, rather than having to compete with David De Gea and/or Dean Henderson.
Coming in second is another Croatian in Josip Posavec, the 23-year-old playing for Hajduk Split is enjoying a league save percentage of 0.853. Being valued at just €1.3m, Posavec could be an ideal low-risk, high-reward target that can be worked as a backup with a clearer route to the first team than current No. 2 Marwin Hitz.
Rounding out the top three is Benfica's Odysseas Vlachodimos. The Greek international represents an interesting choice in the fact that he is German-born and a German youth international, meaning he would count as a homegrown player for Borussia Dortmund.
Registration benefits aside, the 25-year-old has a save percentage of 0.804 and a value of €15m. Vlachodimos would be on the upper-end of the price range but the benefit of counting as a domestic player makes the price an easier pill to swallow.
Expected Conceded Goals

Looking at xCG difference, we see some familiar names, not just for the Bundesliga but also for this scouting breakdown.
This category was, again, not hard to top Burki in, with just Timo Horn (Cologne), Markus Kuster (Mattersburg), Andre Moreira (Belenenses), and Angus Gunn (Southampton) finishing with a lower margin.
Looking back to the positive and bright side, we see Freiburg's rotational option Mark Flekken enjoying a margin of +0.36. Flekken is interesting in the fact that he is not the full starter of his club, but he is performing well when he plays and is playing at the same club Dortmund purchased Burki from.
Finishing above Flekken is another goalkeeper with Bundesliga experience in Michael Zetterer. The former Werder Bremen No. 2 is now playing in the Netherlands with PEC Zwolle. Despite his margin of +0.43, Zetterer is still struggling to be No. 1 at Zwolle thanks to competition from Xavier Mous, which sees him walk away with three points to his overall score, but likely not an ideal option to become start at Borussia Dortmund.
Topping the table for xCG difference is, again, Dominik Livakovic with a margin of +0.5. Seeing his elite save percentage, it is not surprising that his margin is positive and high, but an average of +0.5 shows he is still being tested at Zagreb and performing well above average.
Long Passing
Thanks to Dortmund's cautious approach in possession and usual control, Burki is not tasked with many long passes. For this category of scouting, less emphasis is needed due to the low demands, however we still need to give credit where it is due.
Topping the chart is RKC Waalwijk's €450k man Etienne Vaessen. The Eredivisie goalkeeper is tasked with 15.71 long passes per match. Vaessen's high number of long balls can be explained just by looking at the league table, which sees Waalwijk sitting in last place with just 12 points, nine from VVV's spot in the relegation play-off. Despite the season struggles, Vaessen gets +5 points to his score for topping this category.
Following Vaessen is Alexander Schlager, who serves as a more well-rounded option than Vaessen. The LASK Linz goalkeeper valued at €4.5m plays 13.53 long balls per match, but it is also worth noting his save percentage of 0.724 and an xCG difference of +0.05 that puts him above average in both respected categories. Getting the final bonus point (+2) in the long passing category is Granada's Rui Silva, valued at €5m. Silva contributes very similar numbers to Schlager with 13.51 long balls per match, a save percentage of 0.695, and an xCG difference of +0.04. Both Silva and Schlager offer the abilities of a respectable shot-stopper capable of longer distributions.
Short Passes & Passes Received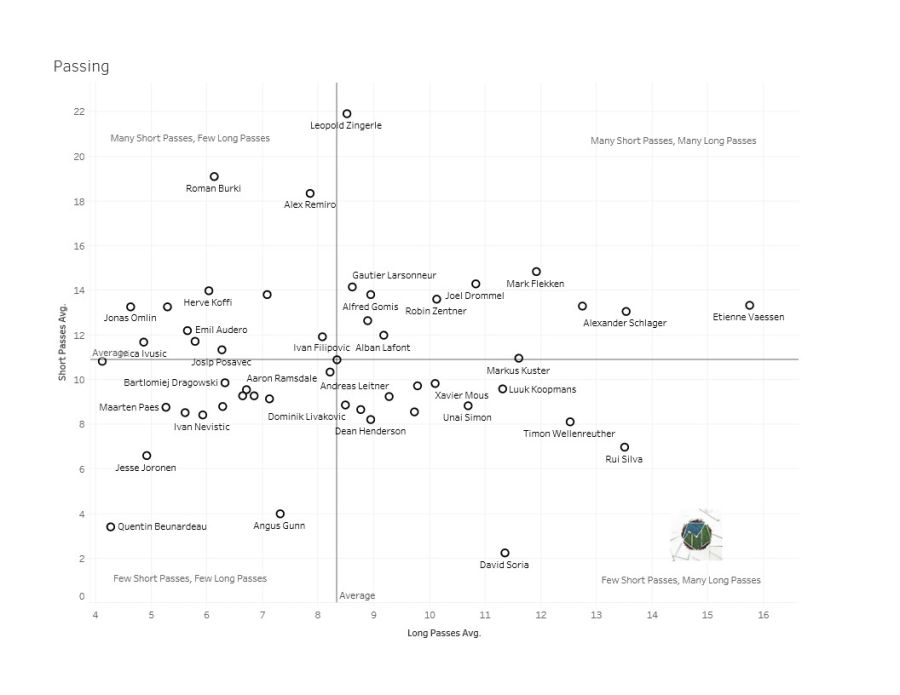 Our final two categories look at the amount of short passes on average a goalkeeper plays and how many times he receives the ball. Three goalkeepers lead short pass average by some margin, with Burki being one of them (second with 19.09). With Burki being in the top three, this sees only the other two top players receive points for their scouting score, while the rest receive zero points.
Topping the chart is Paderborn's Leopold Zingerle. The 25-year-old €1.5m goalkeeper averages 21.9 short passes per match despite being at the bottom of the Bundesliga. Not only does Zingerle top the table in short passing, he also appears top in passes received, with 22.59. No goalkeeper in the 10 leagues scouted represents a better fit for Borussia Dortmund in terms of ball-playing needs, but questions can be asked of his shot-stopping ability.
Finishing third in both short passes and passes received is Real Sociedad's Alex Remiro with 18.35 and 20.16 in each category. The €7.5m goalkeeper, much like Zingerle, also has to have questions asked of his shot-stopping abilities with a save percentage of just 0.645 and an xCG difference of -0.32.
Conclusion
Adding up the final scores, three players broke 10 points.
Coming in first is Paderborn's Leopold Zingerle with 13 points. Zingerle is an incredibly talented distributor and would be coming from a lower Bundesliga club, similar to Burki's transfer a few seasons ago. With Paderborn looking likely to be relegated again, he could come in as a similar goalkeeper with upside to compete and ultimately replace Burki, but with below average shot-stopping still, it would be tough to consider him the goalkeeper to push Dortmund to a title.
Following Zingerle is my personal choice in Livakovic. Despite his below-average distribution demands at Dinamo Zagreb, there is little reason to believe he could not improve the numbers at Dortmund. While his insanely good shot-stopping output will fall a little bit due to the Bundesliga being a better league than the Croatian 1. HNL, it is still expected that he would be well-above average. Livakovic's 11 points sees him in second and a top choice to be an immediate upgrade on Burki.
Finally, in third, isVaessen. The Waalwijk goalkeeper represents a similar style to Zingerle in almost all metrics, but would be cheaper and could be an outstanding choice as a budget backup goalkeeper that fits the system well and could improve.