It's not done yet, and still might not happen.
One of the most protracted transfer sagas of recent times is Bruno Fernandes to Manchester United; it has been derailed on numerous occasions, due to a multitude of issues including how much money his club were demanding, secret contract clauses, to a lack of certainty from United that he is the player they need.
But if it does finally happen, what can United fans expect, and would the club in its current state even maximise his talents in any case?
PLAYING STYLE
Bruno Fernandes is an elegant midfielder who has extreme comfort on the ball and is confident in his ability to dictate. He is the type of playmaker whose talents are indulged by his team in a weird throwback - Fernandes gets to do what he likes and go where he likes because he's the clear star man.
One look at his heat map highlights this. Sporting have operated for much of the season in a 4-2-3-1 or 4-3-3 with Fernandes operating principally as the right sided midfielder in each formation or just off the attack, but in reality he drifts to where he thinks he can influence the game the most. It should also be noted that this is not a particularly talented Sporting squad, one that sits 16 points off the pace in the Primeira Liga, behind Benfica. From that perspective he is indulged in the absence of other options. But he does, however, have some real ability that justifies his squad status.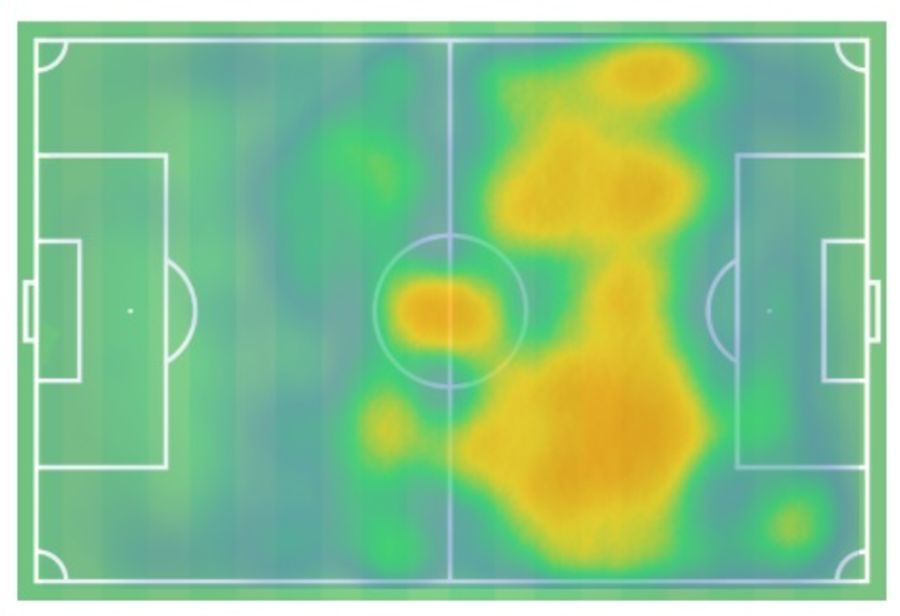 DECEIVING NUMBERS?
For Sporting he has contributed 14 goals and 11 assists in 2019/20, meaning he has made a goal contribution every 82 minutes. But as far as the goal number is concerned, six of those were penalties, while three were direct free-kicks, and two of those FKs were fortunate deflected finishes. That leaves a goal from open play every 414 minutes which, suddenly, doesn't look quite as impressive. Furthermore, you have to assume that a level of set-piece hierarchy, with Marcus Rashford likely to remain on penalty duty, at least, could damage his holistic numbers.
Indeed, in 18/19 in the Primeira Liga his 20 goals were an over-performance on his xG by almost seven (13.2 xG), while that has broadly continued into this season (14 goals on 11 xG). This would also be a concern, considering that many of the efforts on goal he attempts are from low xG tariff positions above 20 yards from goal - and he tries a lot of them. His 31 shots from outside the area are the most in the Primeira Liga, while his four shots P90, of which 1.7 are generally on target, is an attempt rate more akin with a leading striker - ie a Cristiano Ronaldo - than a probing midfielder.
Bruno Fernandes, v PSV:

FC Rating: 9.4
Touches: 87
Comp Passes: 49
Goals: 2
Assists: 2
Shots: 5
On Target: 3
Comp Dribbles: 2
Recoveries: 7

Playing really well at the moment. He'll go this summer for sure. pic.twitter.com/bZw66ZwnHM

— FootballCritic (@CriticFootball_) November 29, 2019
In short, the fact that he overperforms his xG and is also reliant on set-pieces for his goal numbers means that it would be dangerous to assume that his strike rate across the last two seasons can remain constant for his new employers.
What is far more interesting, however, are his creative numbers. These have more weight and substance to them and should be encouraging, because they are more replicable than his goal rate.
In 2018/19 his 71 deep completions (ie completed passes within 20 yards of the opposition goal) was T2 in the Primeira Liga, while his 3.14 deep completions P90 is by far the best in Portugal this year. Once more, in 18/19 he achieved 2.7 through passes in 18/19, up slightly to 2.9 in 19/20, while Key Passes P90 are slightly higher too year-on-year (0.86 v 0.92). He is out performing his Expected Assists so far in 19/20 (8 xA v 12 actual), but last season his 12 assists were almost exactly in line with expectations.
Most of Fernandes' assists come from crosses; whether from corners or from balls into the area in open play (he averages 5.5 crosses P90), his most regular trait is to collect the ball 20-25 yards from goal and look to put the ball in a dangerous position, dipping the ball up and down akin to the way a young Ronaldo would. He knows where to put it, and with a more dynamic forward line than he has currently at Sporting, United could achieve excellent results.
Because, from United's perspective this is a clear gap in their roster. Juan Mata clearly doesn't fit the profile for Ole Gunnar Solskjaer, given his main utilisation in the secondary competitions such as the Europa League, while patience with Jesse Lingard must surely be wearing thin, given his pitiful one goal and one assist in 1323 minutes of football in 2019/20. Of course, Paul Pogba could play there... but, well, we all know that particular situation.
That leaves Fred, Scott McTominay, Nemanja Matic and Andreas Pereira, with the latter of the four the most productive offensively by some distance but that is clear damning with faint praise. If playing a 4-3-3, and given the attacking contributions of their full-backs Aaron Wan-Bissaka, Ashley Young, Brandon Williams and Luke Shaw mount to just a single goal and assist between all four, a picture is being painted of a tremendous reliance on the front three to create.
Marcus Rashford, Daniel James, Anthony Martial and Mason Greenwood are young men being asked to take on all of the attacking burden, and young players, as is their wont, are still developing and can't really be relied upon every week to deliver. United clearly need not only someone who can share the goal burden but also provide attacking guile, and though Fernandes on paper excels at both it could be his creative talents that prove most useful.
THE BIG QUESTIONS
Fernandes' FC Ranking of 93 highlights a player enjoying a serious run of form and that should not be underestimated. Given that at FC we weight the Ranking based on the quality of the competition, the fact he is still scoring so highly is good news for United fans craving a new playmaking hero.
But two big questions remain. Firstly, can he make the considerable step up in class quickly enough for him to impact a team that desperately needs an injection of quality. It took Ronaldo and Nani, albeit both of them far younger, a few seasons to adapt to the Premier League and for playing at Old Trafford. Fernandes just won't be given that time as he is expected to impact.
And secondly, will he need to fit to United, or the other way round? Fernandes has a very deliberate playing style and, having watched him incessantly for 18 months, you would hope they would know how to use him efficiently and how to protect him to allow him to do what he is best at. With United's recent transfer dealings, though, that remains a serious question mark.