We should start with something of a disclaimer. The pitch for this article was made before the Premier League restarted and therefore before the watching world saw Arsenal capitulate against Manchester City through a series of defensive mistakes.
Seeing the on-loan Pablo Mari have to go off injured and then his replacement, David Luiz, make crucial errors for the first and second City goals has brought Arsenal's need for defensive reinforcements into sharp focus.
How Arsenal identify and eventually recruit players, however, is anything but clear. The narrative around the club is that the transfer business will be dictated by Raul Sanllehi, the head of football operations. The Spaniard is thought to favour an approach that is largely led by a network of agents and contacts around the globe who recommend players to the club. This is, of course, a largely inefficient way to manage recruitment at the club where most competitors rely on a mixture of those reports combined with data and video scouting.
Relying on a network of contacts to drive recruitment is also, of course, made more difficult by the fact that Mikel Arteta, appointed as the coach of the club in December 2019, has a very specific game model that requires players to have the ability to play in a certain way, both in and out of possession.
Take the central defenders as a case in point. The previous Arsenal coach, Unai Emery, was known to favour a possession based style that saw the ball played out from the back, meaning that the central defenders have to be comfortable in possession of the ball. While Arteta shares a similar outlook he is even more specific in terms of the constraints on the defensive players while they are in possession.
Previously there was an instruction to play out from the back but the intent behind this was unclear. Reports emerged from the Arsenal training ground soon after the appointment of Arteta that the coach's detail orientated approach to tactical development was already clear. Arteta encourages his defenders to hold the ball and move forward in possession until a defensive player looks to engage and press. Then, and only then, should the man in possession look to shift the ball. The reasoning behind this is simple, as an opposition player presses they leave space behind them. This space can then be exploited by moving the ball and progressing up the pitch.
There are then two clear functions that Arsenal require from their central defenders. They have to be able to defend, obviously, but they also have to be able to play progressively in possession of the ball. This is the key that will make the entire Arsenal system of play work. How then should they recruit for this position this coming transfer window? Well, before we answer that we have to understand what the club currently has in this position.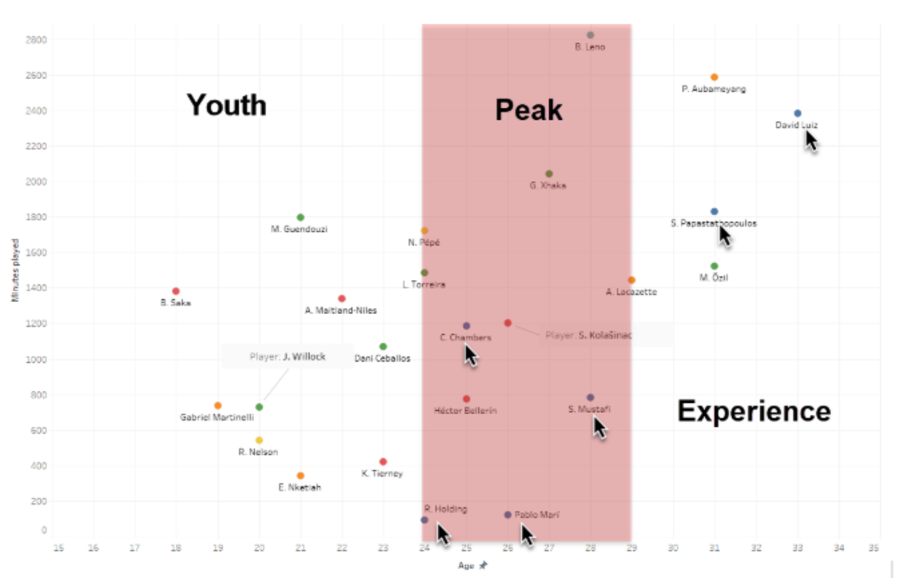 Above is an age profile of the Arsenal squad based on minutes played across the 2019/20 season. At first glance there are reasons for Arsenal fans to be optimistic. The spread across the squad favours players in the youth or peak sections with a number of talented young players starting to make a significant impact at first-team level. This is the case for most positions, but not for central defenders.
Luiz, culpable for two goals in the match against Manchester City and shortly out of contract, and Sokratis Papastathopoulos have gained the most minutes followed by Calum Chambers and Shkodran Mustafi. Rob Holding and Mari, who only joined the club in January and is on loan from Flamengo of Brazil, have accrued least minutes.
We also have to consider how these players have performed in the two key areas we have identified. Ability to, well, defend and progress the ball.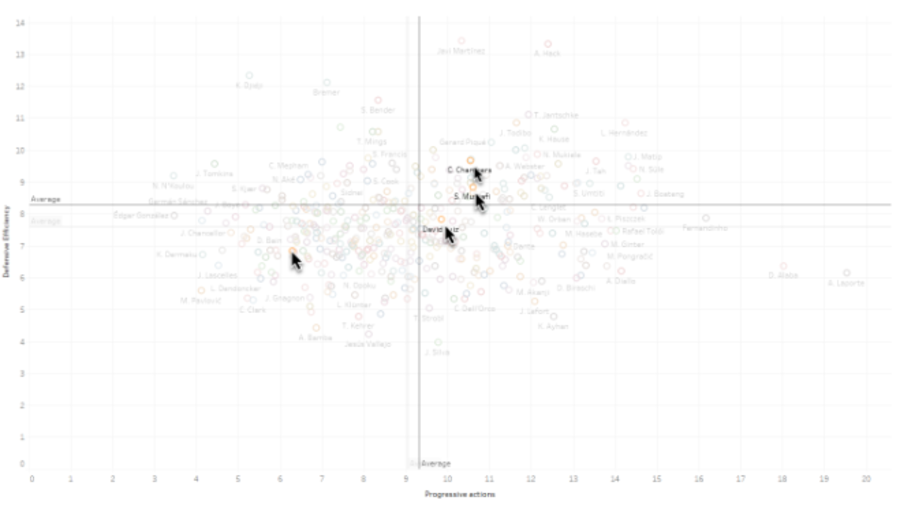 The above scatter graph shows all central defenders in the top 5 leagues over the course of the 2019/20 season so far. The y-axis shows a metric labelled as defensive efficiency. We find defensive efficiency by combining possession adjusted tackles and possession adjusted interceptions. The x-axis shows progressive actions which is found by combining progressive runs per 90 and progressive passes per 90.
The Arsenal central defenders have been highlighted and it does not make for good viewing for any Arsenal fans. Chambers and Mustafi are just above the average line for each metric but the most used defensive pairing, Luiz and Sokratis are poor when viewed through the data.
Now, at least we know where we need to improve from a defensive standpoint. It is looking increasingly likely that Luiz will leave the club and that a permanent deal will be agreed for Mari. Even then though it looks likely that Arsenal will need to recruit at least two players at this position.
We will use the same metrics detailed above to identify potential targets for Arsenal in this position. We will specifically find potential recruits that are right-footed and that are left-footed. For a possession orientated system based around progressing the ball from the back line there is a need for balance with players who are able to play with their strong-foot on the outside.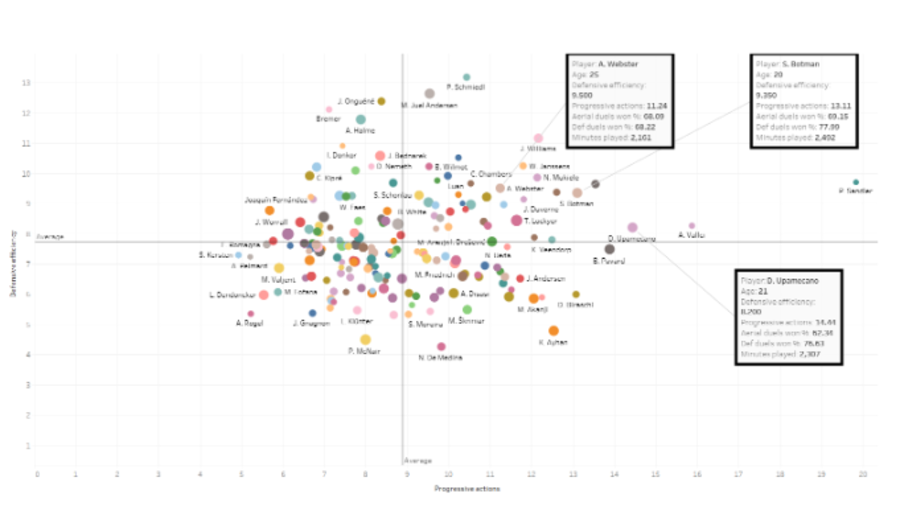 Let's start by identifying three potential targets for the right-sided centre back position. Two of these are capable of playing in the first-team from day one while the other needs some more time to develop fully but has an interesting profile. To find these targets we have taken all central defenders aged 18-25 who have played a minimum of 800 minutes who play in the top five leagues combined with the top flights of Belgium, Holland and Austria as well as the English Championship.
The first of the three players that stands out is one that has already been heavily linked to Arsenal in the past, Dayot Upamecano of RB Leipzig in the German Bundesliga. The 21-year-old French defender has played 2,269 minutes this season and has a defensive efficiency score of 8.2 and a progressive actions score of 14.44. As a second check, included is the % that each player has in terms of their defensive (ground) duels and aerial duels won. Upamecano has won 76.63% and 62.34% respectively.
Next, we have a player who has already been playing at a high level in the English Premier League, Adam Webster of Brighton. The 25-year-old has played 2,106 minutes with a defensive efficiency score of 9.5 and a progressive actions score of 11.24. Webster has also won 68.22% of his ground duels and 68.09% of his aerial duels.
The final right-sided central defender on this list is the 20-year-old Dutch central defender Sven Botman who is currently contracted to Ajax but spent the 2019/20 season on loan at Heerenveen in the Dutch Eredivisie. Botman played 2,492 minutes last season and has a defensive efficiency score of 9.35 with a progressive actions score of 13.11. He has also won 77.79% of ground duels and 69.15% of aerial duels over the course of the last season.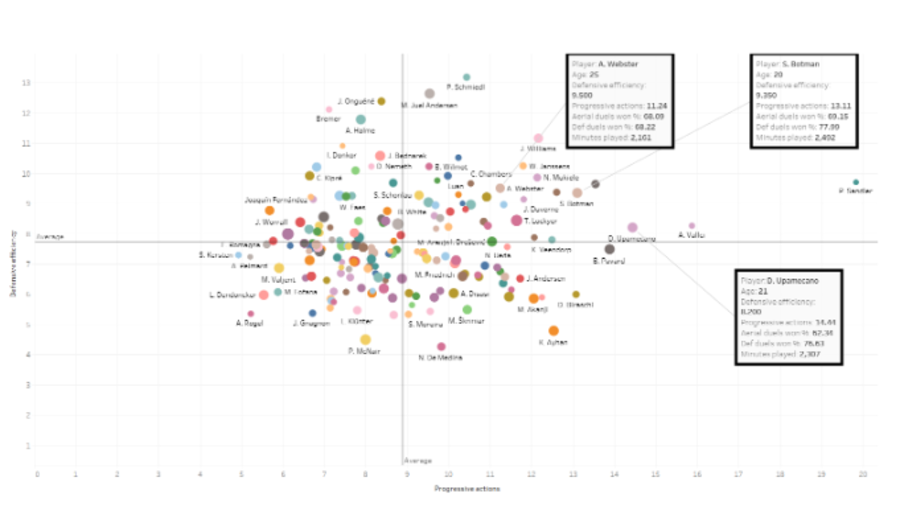 Next, we will consider left-footed options for Arsenal. We are using the same metrics and the same filters with the only difference being that these players are left-footed.
First up we have the 22-year-old Austrian central defender Maximilian Wober who is back with Red Bull Salzburg following a spell in Holland with Ajax and has played 1594 minutes. Wober is the outlier in this data set for both defensive efficiency and progressive actions scoring 12.84 and 15.64 respectively. He has also won 71.60% of his ground duels and 69.61% of aerial duels.
Next we have a 21-year-old Colombian defender Jhon Lucumi, currently playing in the Belgian top-flight for Genk playing 2,044 minutes. Lucumi is a genuine talent although his work-permit may be dependent on the size of the total financial package of any deal or the outcome of an appeal. He has a defensive efficiency score of 9.01 and a progressive actions score of 12.29. He has won 74.21% of ground duels and 61.54% of aerial duels.
The final player on our list is the 22-year-old Dutch central defender Teun Koopmeiners who can also play as a defensive midfielder. Koopmeiners has impressed this season with AZ Alkmaar in the Eredivisie where he has played 2,217 minutes. Koopmeiners scored 5.9 for defensive efficiency but 14.82 for progressive actions. He also won 61.24% of his ground duels and 57.63 of his aerial duels.
Above is a small insight into one way that Arsenal could recruit to fill their need in the centre of the defence. This approach should be combined with live and video scouting and even with the intelligence provided by a network of agents and contacts to create a full recruitment picture of the club. There is no reason, however, that Arsenal should be unable to find players that fit the specific tactical requirements of their coach going into the 2020/21 season.