First published March 2020
Kepa Arrizabalaga arrived at Chelsea from Athletic Bilbao in August 2018 to join Chelsea for a world record fee of €80m to replace Thibaut Courtois, who joined Real Madrid.
Since joining the Blues, Kepa's time has been interesting to say the least. Mixed with drama and inconsistent performances, it can be argued that Kepa is not the best option going forward and it may be time to move on. With that being said, who is available as an option to be Chelsea's No. 1? We can use data scouting to create an initial shortlist from goalkeepers with significant minutes from Europe's top five leagues.
Chelsea's need for a Kepa replacement
Rather than immediately evaluating Kepa, we will start by looking at the defence in front of him to see what he has to deal with. We can do this by looking at Expected Conceded Goals Average, or xCG. This metric essentially breaks down to this:
On any standard Premier League match in the 2019-20 season, this team is expected to concede this many goals.
In Chelsea's case, that number is 0.95.
This signifies that Chelsea's defending is the third best, being tied with Manchester United and only trailing Manchester City and Liverpool. Looking at this metric, it is fair to say that Kepa has the luxury of elite defending in front of him, but on the rare occasions that he is put to the test, how does he handle it?
Well, looking at his actual goals conceded average, we see he is tied in 11th best, with a 1.19 goals allowed average (tied with Arsenal's Bernd Leno). In a selection of 25 Premier League goalkeepers, this makes him slightly above-average, however, we have to remember this is largely influenced by the elite defence in front of him.
To try and remove the influence of defending in front of a goalkeeper, we can then break it down even further by finding the Expected Conceded Goals Difference, or xCG Difference. This is done by taking xCG - Goals Allowed Average. A positive number means a goalkeeper is performing better than his expectations, while a negative obviously means a goalkeeper is underperforming.
Looking at Kepa's xCG Difference, Kepa falls to -0.24. This number makes him the second-worst out of the 25 selected Premier League goalkeepers. To take it one step further, we can look at xG 2.0, or Post-Shot xG.
Post-Shot xG (PSxG) is different from regular xG because it takes into account the quality of the shot, rather than considering any shot taken (including off-target and blocked shots) like standard xG does. Looking at Kepa's PSxG, we see the result remain the same, with Kepa remaining as second-worst (his PSxG is -0.23, a miniscule improvement) which allows for the conclusion of his shot-stopping simply being not good enough.
Kepa shot-stoppging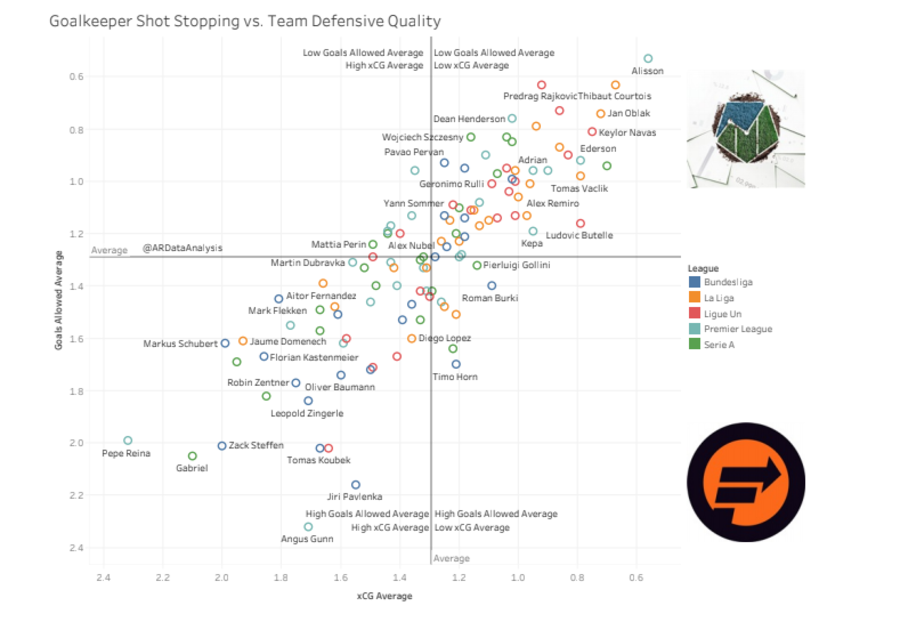 Data taken from March 2020
In the graph above, we compare a goalkeeper's conceded goals average vs. xCG to compare how the goalkeepers in our database perform in relation to how you would expect the goalkeeper to perform thanks to the chances allowed by the defending in front of them.
In the top right, we see a selection of goalkeepers who rarely concede and have the luxury of class defending in front of them. These goalkeepers are likely very expensive because they play for elite clubs and we see the likes of Jan Oblak, Marc-Andre ter Stegen, and Wojciech Szczesny fall into this category.
If we move to the top left, we see the category that should be the most interesting. These are goalkeepers who are expected to concede a higher quantity of goals, but actually concede a low amount and outperform by some margin. Of the 114 goalkeepers in our database, just seven find themselves in this lucrative section.
Those seven are; Vicente Guaita (Crystal Palace), Hugo Lloris (Tottenham), Bernd Leno (Arsenal), David Martin (West Ham), Gautier Larsonneur (Brest), Luigi Sepe (Parma), and Mattia Perin (Genoa).
Now that we have dropped our shortlist to seven players, we can move on to looking at their xCG difference and PSxG. Looking below, we can form a quick table of the seven players and their outputs compared to Kepa.
Kepa distribution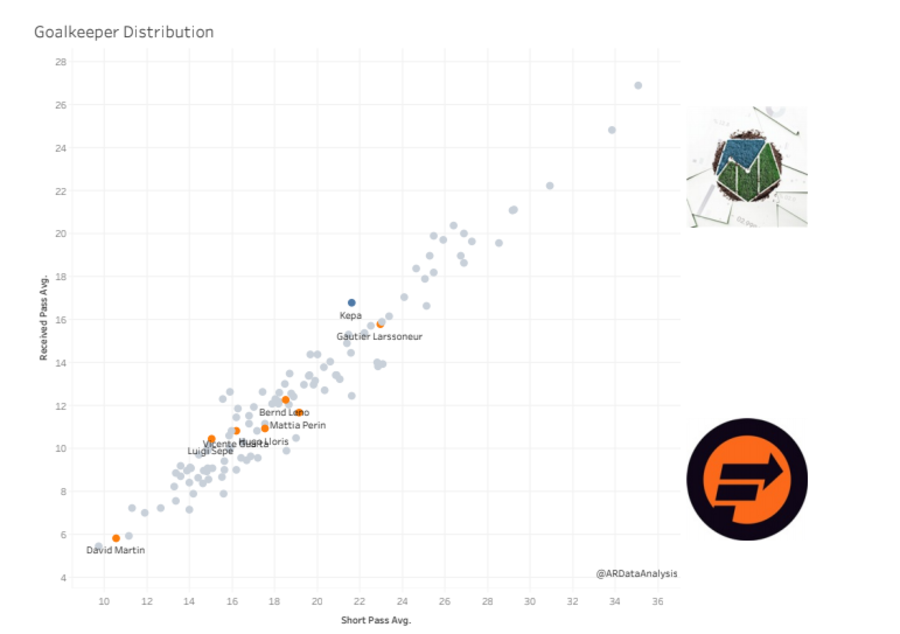 Data taken from March 2020
Moving onto distribution, we note that Kepa averages 21.6 short passes per match, 5.4 long passes per match, and 16.8 received passes per match.
When we begin narrowing the database for ideal replacements, we want to find a goalkeeper who matches or exceeds Kepa's distribution output, which can be summarised as an above-average workload focused on the short passing game.
Remembering that Chelsea's demands for a goalkeeper is a heavier workload focused around short passing, we can go on without focusing too much on long passes/match. Looking at the graph above, we see Kepa's output highlighted in blue, our shortlisted players highlighted in orange, and then the rest of the database kept in a dull grey to minimise attention.
Only one player emerges above Kepa in terms of quantity of short passes and received passes, but that does not mean the others should be ruled out, rather, it means that Gautier Larsonneur should be viewed as the most-readily capable goalkeeper to handle the workload demands. Looking below, you will see a table showing the exact passing numbers of players on our shortlist.
Conclusion
Now that we have looked at the data and identified potential replacements to Kepa Arrizabalaga, we need to apply logic. While David Martin is a very likeable player, he is 34 and is a third-choice goalkeeper and barely met the minutes requirement for this database, meaning he certainly is not an ideal choice and can be removed from the list.
Hugo Lloris and Bernd Leno are elite goalkeepers playing for Chelsea's London rivals, and as nice as it would be to bring either player in, neither will realistically leave North London for Chelsea, meaning they too can be removed from our list.
That brings us to Vicente Guaita. While Guaita is at a London-based club and could deserve a move to a bigger club, he is already 33 and would only represent a short-term option, which does not match Chelsea's new focus of integrating young players under Frank Lampard.
That brings us to our three international players on the shortlist.
Luigi Sepe (28, Parma) is valued at just £4.5m, making him a very budget-friendly option that performs well. With Sepe in his prime and being available for a low price, he may be better suited to replace the 38-year-old Willy Caballero as Chelsea's second choice goalkeeper. Mattia Perin (27, Genoa) is on loan from Juventus and has no true chance of displacing Wojciech Szczesny as Juventus' No. 1 goalkeeper.
Being valued at £9m, Chelsea could target the Italian to come in as a new starter without damaging the budget too much. Finally, we come to Gautier Larsonneur (23, Brest) as our top candidate. The French goalkeeper is valued at £6.5m, but our data highlights him as one of the best shot-stoppers and he is the only goalkeeper on our shortlist to perform at a higher level than Kepa in distribution.
With his young age, it is expected his performances will improve and he could become Chelsea's goalkeeper for many years to come.
While the data suggests Perin and Larsonneur are the top choices from the top five leagues in Europe, there is still work to do, with the next step being to use video scouting to ensure the data is backed up by the eye-test.