Bayern Munich's recent performances have demonstrated that their early season inconsistencies are past them and their squad is in full throttle to retain their league title.
A source of criticism during their poor run was undoubtedly their defence, which was hindered by an injury, plus another player wanting to play in another position. First, it was revealed Joshua Kimmich internally pushed for playing time as a central midfielder, a request that appears to have been fulfilled. But this left a hole in Bayern's right-back position.
Then Niklas Sule, seen as Bayern's best defender, ruptured his crucial ligament meaning he will miss the rest of the season. With no real depth in defensive areas and as Borussia Monchengladbach and RB Leipzig distanced themselves in the table, eyes focused on Bayern's vulnerable back-line.
Bayern's league position, in addition to having the best defensive record (23 goals conceded and 21.4 Expected Goals Against (xGA), both best in the league) reflects that Bayern and their defence have been able to manage with what they have. However, questions still remain about their prowess.
To understand how Bayern have still managed to maintain the best defensive record in the league, let's see how Hansi Flick has structured his side.
Flick has mainly deployed a 4-2-3-1 formation, with the back-line consisting of Alphonso Davies and Benjamin Pavard as wing-backs and a central pairing of David Alaba and Javi Martinez. In Bayern's last four matches, however, Jerome Boateng has replaced Martinez because of an injury and individually the quartet make an unconventional back-line to say the least.
Davies is naturally a winger, but he has adapted to his left-back role well; he is often found much further up the pitch providing width and putting in crosses. The 19-year-old has however relied on his electric speed and work rate to make up for his defensive positioning errors. David Alaba, a player who has proven he can play a number of different positions, has shifted over to centre-back with former defensive midfielder Javi Martinez. Meanwhile Pavard, who has played as a centre-back for the France and Stuttgart, was moved to right-back, not an entirely foreign position for him.
Bayern's back-line is attack minded. Davies takes up more advanced areas when possible, as does Pavard to a slightly lesser extent. Alaba slots into central midfield areas to provide support when needed. In their recent match against RB Leipzig we can clearly see how Bayern's defence can be attacked.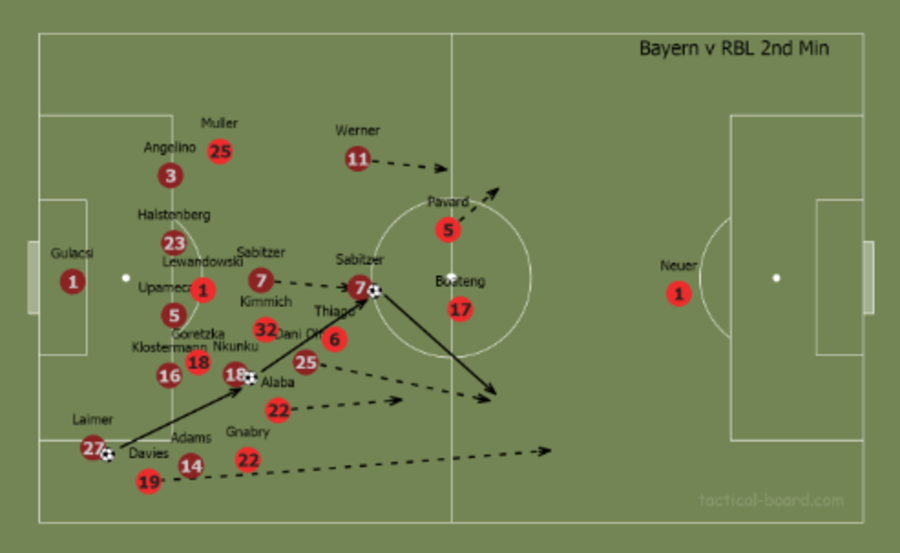 In the second minute, Davies was dispossessed by Konrad Laimer, who quickly passed the ball to Christopher Nkunku to launch RB Leipzig's counter-attack. Bayern's shape during this transition was a worry; both Alaba and Davies were pushed forward, the latter the most advanced player for Bayern at this moment. After Marcel Sabitzer played through Dani Olmo, Bayern relied on Davies' pace to bail them out and make a tackle.
Next, looking at the individual contributions of Bayern's back-line, a different picture is painted.
Bayern's defenders excel at interceptions and not allowing opponents to dribble past them - two metrics more important than tackles won in their context. Tackles won is typically a metric favoured by sides that are under consistent offensive pressure and their defenders are forced into last-ditch tackles after their team's defensive shape is broken down.
For Bayern interceptions are much more important. However, how well Bayern can stop opponents from dribbling past their defenders is vital too. As we have seen in the example from the RB Leipzig match, when Bayern are exposed to quick counter-attacks, their opponents just need to escape one defender to get a shot off in a dangerous area.
Although Bayern's makeshift defence is holding strong the bulk of their fixtures is just a few weeks away. But they've proven in their most recent title battles that they can hold RB Leipzig, arguably the best offence in the league, scoreless.
On paper Bayern's defence may appear unconventional compared to previous seasons but they've proven they can support their team in the race to retain the Bundesliga title.