IN BRIEF
⚽ Lazio currently on 11-game winning streak
⚽ They lie just six points behind leaders Juventus with a game in hand
⚽ Of the top five leagues, only Lewandowski have scored more in 19/20 than Immobile
⚽ It's the Rome derby on Sunday
Can Lazio really win the Scudetto?
Even the most partisan of Biancocelesti fans would have ridiculed the idea back in August. Yet as we approach February, they are being discussed as genuine title contenders, perhaps even ahead of the faltering Inter.
Their 5-1 thrashing of Sampdoria last weekend was their eleventh straight league win - only four other teams in Serie A history have won more than 10 games in a row - and during this period, they have achieved a string of landmark victories.
Most notably, they defeated Juventus for the first time in 16 years in Rome to end their unbeaten start to the season and if they win their game in hand against Verona, they will move above Inter to within three points of the leaders. Juve are looking nervously over their shoulders.
The star of the show has undoubtedly been Ciro Immobile. The 29-year-old is leading the European Golden Boot race having plundered 23 goals in just 19 Serie A games. His Expected Goals (xG) for the season is 15.78, meaning he has scored 7.22 goals more than he is forecast to based on the difficulty of his chances. This is particularly impressive considering his nine penalties inflate his xG and his team need to him to continue to outperform his underlying numbers to be in with a shout of chasing down the eight-in-a-row team from Turin.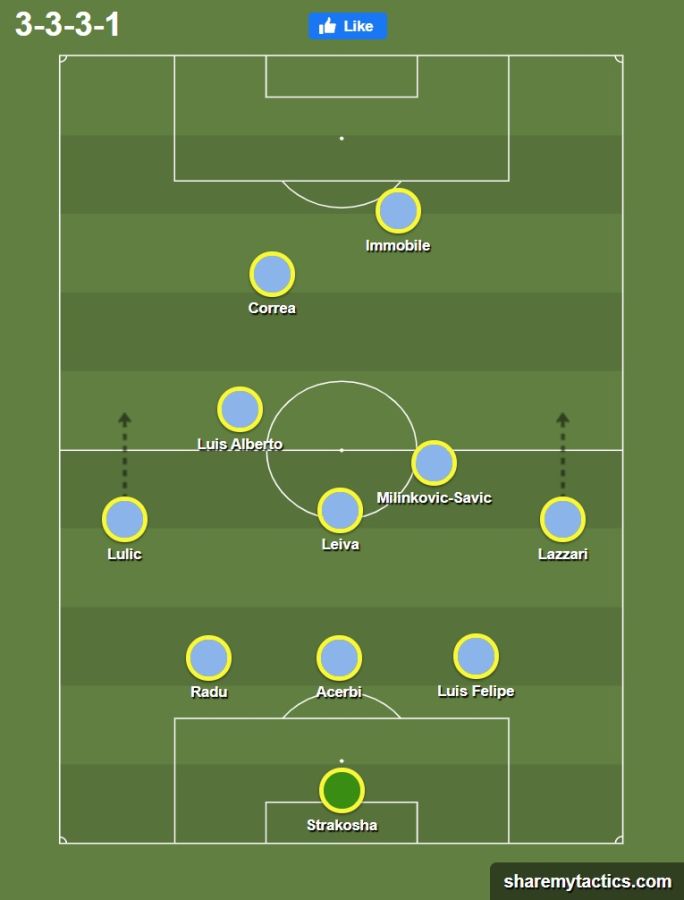 And that's the key question about Immobile's performance. He has scored a string of goals from positions with an extremely low scoring probability; his winner versus Napoli had an xG of 0.05, his two goals against Bologna were 0.06 and 0.07 xG respectively, while his header against Fiorentina was just 0.03 xG.
It is no surprise that Immobile has a FC Player Ranking score of 96 (What is this?) based on this form, but he has always been a player who has divided opinion. His Serie A scoring record over the last half-decade is almost unrivalled. He is one of only a handful of players in history to have scored 20 goals in four or more Serie A seasons, while he already finds himself fourth on Lazio's all-time scoring list with 112 goals.
However, the 29-year-old was a big-money flop at Borussia Dortmund, where he failed to replace Robert Lewandowski and scored just three Bundesliga goals. He also bombed at Sevilla, finding the net just twice in La Liga. He went two years without scoring for the Italy national team, becoming one of the scapegoats for the 2018 World Cup qualification debacle.
Immobile loves to play on the shoulder of the last man, utilising his outstanding movement, positioning and instincts but requires the supply and support of his team-mates in order to flourish. He can struggle when isolated and is ill-equipped physically to play as a lone striker in a system like a 4-2-3-1, as he did at Dortmund under Jurgen Klopp.
He needs his team-mates in and around him, and this is something he enjoys at Lazio with attacking midfielders Joaquin Correa, Sergej Milinkovic-Savic and, in particular, the outstanding Luis Alberto.
Only Immobile and Ronaldo have received more man-of-the-match awards in Italy from FC than Luis Alberto, who is level with Thomas Muller on the second most assists (11) in Europe's major leagues in 2019/20. Only Kevin de Bruyne has created more.
Coach Simone Inzaghi deserves huge credit for finding the perfect balance. He earned rave reviews two seasons ago when Lazio played some of the most exciting football in Europe. They top-scored in Serie A with 89 goals and hit another 26 goals in 12 Europa League games. However, Inzaghi's refusal to adjust to a conservative approach when necessary cost them as they agonisingly missed out on a Champions League place on the final day of the season.
They also collapsed against Red Bull Salzburg in the quarter-finals of the Europa League, throwing away a 5-2 aggregate lead with just 18 minutes of the tie remaining. Last season, Inzaghi over-compensated in his attempt to tighten up the defence. This term he has got things spot on. His formation can be described as a hybrid between a 3-5-2, 3-4-1-2 and 3-4-2-1.
Francesco Acerbi (FC 86), one of Europe's most underrated defenders, expertly marshals the back three and is well protected by sitting midfielder Lucas Leiva. The ex-Liverpool veteran's tactical and positional intelligence provides the platform for Milinkovic-Savic, Luis Alberto and Correa to wreak havoc with Immobile.
Lazio have won 10 Serie A games in a row


Are they genuine title contenders?

Immobile scored a hat-trick vs Sampdoria, including this goal

He now has 28 goal involvements - more than any other player in Europe's top 5 leagues pic.twitter.com/CNyPyBQpsO

— Premier Sports (@PremierSportsTV) January 20, 2020
Inzaghi's reputation is sky-high. Juventus are admirers and considered him to replace Massimiliano Allegri, and he will surely be on their shortlist again for succeeding Maurizio Sarri.
Twenty years ago, Lazio overtook Juventus on the final day of the season to win their second and, to date, last Scudetto. Repeating that success this season would be even more of an achievement given they no longer boast the (dubious) wealth of under Eriksson, or global stars like Pavel Nedved, Juan Veron and Alessandro Nesta.
Nor do they possess the squad depth to realistically sustain a title challenge until the end of the season. Inzaghi has been fortunate to be able to count upon his key players for almost the entirety of this campaign so far. Were an Immobile or Luis Alberto to suffer a serious injury, then problems will arise. The tame group stage exit in the Europa League, losing twice to Celtic, proved that Inzaghi's backups are not good enough.
Lazio's fitness levels will be aided, though, by the fact they are out of all cup competitions. Juventus' main objective will be to win the Champions League, which will inevitably tire them. Inter, meanwhile, have been creaking in recent weeks with just two wins in their last six games.
What is not in doubt is the mental strength and belief of this Lazio squad. During this 11-game win streak, they have scored six winners in the last 10 minutes. While their detractors may argue otherwise, there is nothing lucky about scoring so many late goals. And however improbable winning the Scudetto may seem, you can guarantee that Inzaghi and his squad will believe they can do it.