HOW ARE EXPECTED ASSISTS CALCULATED?
Expected Goals (xG) models give us valuable insight into the performance of strikers, but leaves out creative players who aren't taking a lot of shots. xG seems to bypass players such as midfielders and full-backs, who do not take a high enough quantity of efforts at goal to produce an xG sample size of any statistical significance. However, these players can be measured by another metric, known as Expected Assists (xA).
Whilst Expected Goals measures the chance that a shot will end in a goal, Expected Assists measures the likelihood that a pass will end up becoming a primary assist. The value that an Expected Assists model gives to a pass is based on a variety of factors, most notably the finishing destination of the pass (a completed pass which finds a forward close to goal is more likely to result in an assist than one which finds the forward on the edge of the area) and also the type of pass (ground passes are more likely to be converted than crosses).
Assists have been a popular measure of player output for some time, but they are not necessarily a fair reflection of the chances being created. For example, should a midfielder who plays a simple pass to a teammate who scores a thirty-yard screamer be credited in the same way as a midfielder who plays a defence-splitting pass which allows for a striker to tap into the net? No, they shouldn't.
Expected Assists provides a more profound insight into the creativity of players.
Importantly, the Expected Assists values that a player produces is not merely calculated by adding up the Expected Goals value of their key passes. Indeed, every single pass made during a match is awarded an Expected Assist value – although most will carry an extremely low xA. When one centre-back passes to the other centre-back in his own half he will probably achieve about 0.0001 xA. However, a midfielder who feeds his striker in one-on-one with the goalkeeper might expect to be awarded about 0.4 xA – indicating that the average forward would have a 40% chance of scoring from his pass.
The main benefit of using Expected Assists is that it assesses all creative players as if they were providing for the same quality of forward.James Tippett
The main benefit of using Expected Assists is that it assesses all creative players as if they were providing for the same quality of forward. Because Expected Assists models are developed from using a database of hundreds of thousands of shots, xA is awarded from the probability that the average player would score as a result of the pass. In reality, midfielders who play for poor teams are always likely to get less assists, because they have worse forwards playing in front of them. If you put any midfielder in the Stoke City team, he would get less assists than if he played in the Barcelona team. If he played for the Potters, the forwards ahead of him would be less pacey, less skillful and have worse movement, making it harder for him to accumulate assists.
Midfielders who are playing with bad forwards will always get less assists than those playing with good forwards. The primary advantage of the Expected Assists method is that it standardises the quality of teammate for every creative player. It takes into account the probability that the average forward would score as a result of each pass.
Let's look at an example which can demonstrate the utility of Expected Assists. In 2018/19, Eden Hazard won the Premier League Playmaker award – the award for the player with the most assists in the league. The Belgian tallied a total of 15 assists for Chelsea, marginally beating the 14 assists which Ryan Fraser made for Bournemouth. Hazard was praised by many as the most creative player in the division. However, the Expected Assist model painted a completely different picture.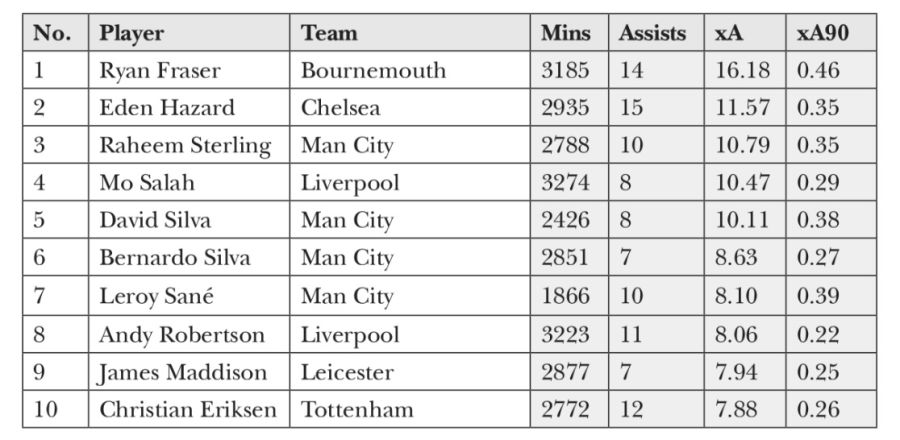 It revealed that, based on the quality of Hazard's passes, the Belgian would have expected to tally 11.57 xA – 3.43 less than the actual amount of assists he achieved. Clearly, Hazard benefited from the quality of team-mates that he played alongside. He was playing in a world class Chelsea side, allowing him to tally more assists than his passes deserved.
Conversely, the Expected Assists model showed that Ryan Fraser's passes merited him 16.18 xA – 2.18 more than the actual number of assists he achieved.
Where Hazard's numbers were inflated by the quality of team-mate surrounding him, Fraser's numbers were hampered. The average player would have scored 16.18 goals from the passes which Fraser made in the 2018/19 campaign. However, the Scots' below-par Bournemouth team-mates were unable to convert the chances expected of them.
When assessed on Expected Assists, Fraser's performance in the 2018/19 season saw him stand head and shoulders above the likes of Hazard, Raheem Sterling, Mo Salah and David Silva. The underperformance of his teammates by 2.18 was bettered only by Mo Salah, whose team-mates only scored eight goals from the 10.47(xA) that he provided for them (a difference of 2.47).
Another feature to note is Fraser's xA90 – the amount of Expected Assists he generated per 90 minutes of playing time. The Scot accumulated an astounding 0.46 xA per match. There was only one player in Europe's top five leagues who accumulated a higher xA90 than Ryan Fraser: