Leeds fans are getting nervous - they've seen this before.
After defeating Hull City convincingly at Elland Road on 11 December, they were 11 points clear of third-placed Fulham in the race for automatic promotion from the Championship. After 59 minutes of the next home match against Cardiff, they were 3-0 up, cruising, and extending that advantage to 12 points.
30 minutes later Cardiff had secured an improbable 3-3 draw and from there, Leeds have struggled terribly to get results over the line. The gap to Brentford is now six, and the Whites have gone from conceding just 10 goals in 21 league matches - a fantastic record seven goals superior to the next best, the aforementioned Brentford - to conceding 23 goals in 27 matches amidst a turbulent period where their only result in six came courtesy of a 5-4, 95th-minute own goal win away at Birmingham.
And Saturday's 2-0 home loss to Sheffield Wednesday triggered anxiety.
'It's happening again!' was the cry from the fans, and the nervousness has clear precedent; Marcelo Bielsa is a manager notorious for requesting high levels of fitness of his players in pre-season while maintaining a tight and loyal squad but one that, unfortunately, struggles with physical rigours as the finish line emerges.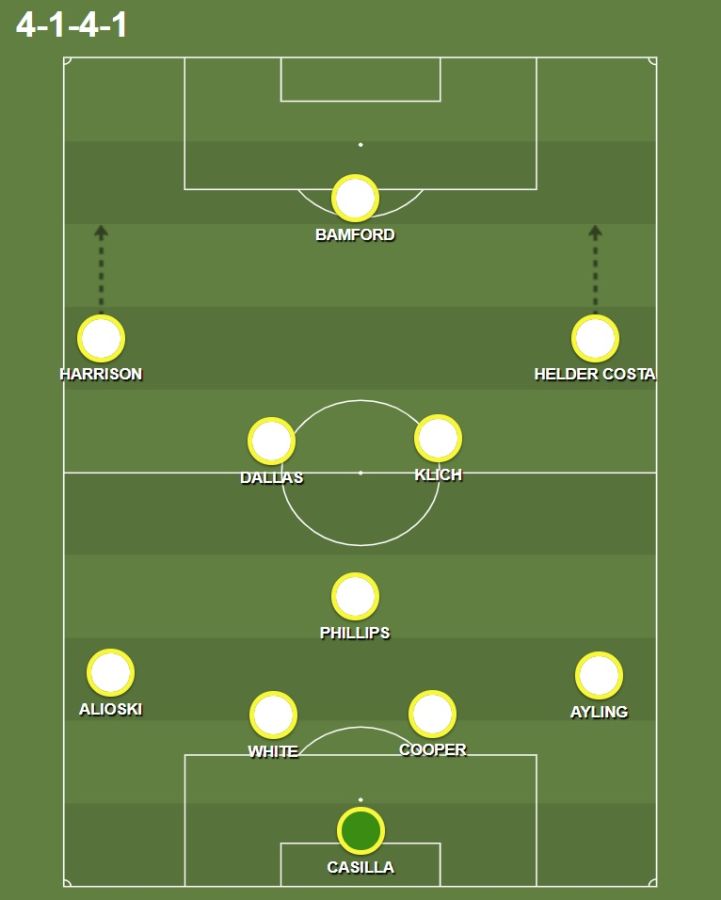 After 26 games of the 2018/19 season, Leeds were four points clear of Norwich and Sheffield United averaging 2.08 points per game (PPG), 0.16 points better than their rivals. But after 36 games, their PPG had dropped to 1.94. After 46 games, 1.8. Norwich and Sheffield United upped their game, while Leeds' attacking prowess dropped off. Their Goals Against PG remained constant around 1.08, but their Goals For Per Game fell from 1.7 to 1.58. When required, they couldn't win any of their last four league matches, while Derby sealed the capitulation in the play-offs.
REGULAR DROP-OFF
But it's not just Bielsa's team who suffered this drop-off. Even during a tempestuous 2017/18, Thomas Christiansen had his team just six points off the top two after this number of games, averaging 1.65 points per game before the wheels fell off, Christiansen was replaced by Paul Heckingbottom and the PGP dropped to just 1.3 - and 13th position - by season end.
Garry Monk's 2016/17 incarnation were better positioned, keeping pace with two excellent sides in Newcastle and Brighton on a PPG of 1.85 and in third position. They maintained that form until ten games from the finish and the wheels came off there, too, dropping to 1.63 PPG and finishing seventh.
Bielsa's team are infinitely superior than either of these previous incarnations - this is more to portray that the psychology around Leeds' late-season collapses are not exclusively related to the Argentine - but the recent drop-off must be concerning and cannot be ignored.
But in Leeds' case this should be easily solved. They are the dominant force in the division; an astonishing 62.1% possession, their PPDA - which counts passes made by the opposition before a defensive action is made, so for a pressing team, the lower the better - is 6.9, easily the best in the league. No team makes more through passes, only three teams pass more into the final third, and only four with more accuracy. Their solid defence, territory domination and usage of the ball is beyond reproach.
But they are simply not converting their chances.
PROJECT BAMFORD
Their xG is over 50, yet they have only scored 43 times in 26 matches, while their xGA is almost exactly 23, in line with expectations. And the clear problem lies in the centre-forward position.
Patrick Bamford has entranced Bielsa. Despite having the option of the talented Eddie Nketiah in reserve this season, Bielsa is clearly bewitched by him, having to defend him in pretty much every press conference this season.
"This is a player with a big character and a big personality," he said during Bamford's recent 10-game goalless run. It's obvious that he appreciates his build-up play and involvement in the team's possession. Bamford's movement is also very good. But the cold facts show he is not putting the ball into the net as often as he should.
Generally if a forward is underperforming xG in a short period, it is a good thing; often being in the positions to miss the chances is far less of a concern than not being there at all. But at what point to we call this less of a symptom and more of a disease?
Bamford's miss last night.... just needs one goal to get the confidence back and more will follow #lufc pic.twitter.com/i3i4q1GvdU

— matthew (@mjmlufc) October 23, 2019
Bamford has eight non-penalty goals in 2019/20 - one every 250 minutes of play. He has 10 goals, total, on an xG of 16. His striking rivals are either scoring in line with xG (Alexander Mitrovic or Steven Fletcher) or are outperforming it impressively (Ollie Watkins, Jarrod Bowen or Lewis Grabban). But he's not hitting the marks expected. In 2018/19 he was third in the division for Shots P90 but only just inside the top 30 for % accuracy. This season, he is now second for Shots P90 but barely scraped inside the top 15 for % accuracy.
Leeds do have some positives. The hugely productive Pablo Hernandez had been missing for over a month (his 3.4 through passes P90 is miles ahead of the rest of the Championship) and will provide an offensive shot in the arm. But making the chances isn't the problem. It's putting them away.
Leeds' nervous spell is coming early. And they also know that, perhaps, the chasing pack this year aren't quite as potent as previously. But in sticking with Bamford from now until May Bielsa is taking a monumental risk with the future of his team.